Dockmate at Seawork International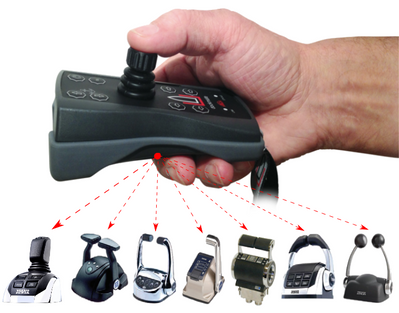 Recently brought to the UK's shores, Dockmate is a future proof, wireless remote-control boat steering system that can be fitted in less than a day on any boat or yacht across the country from driveway to dry dock.
Designed to eliminate all the worry and uncertainty associated with docking, Dockmate has confirmed it will be exhibiting for the first time at this year's Seawork International - Quayside.
The team at Dockmate will demonstrate how its remote boat docking technology, with fingertip control, can facilitate a longer and more enjoyable life on the water, be used to steer a boat in a tight slip, negotiate challenging docking conditions and maneuver a boat single handedly, from anywhere on board with ease.
All boats with electronic engine control, regardless of the type or length of yacht, can be equipped with the Dockmate system which comes with a three-year warranty and full technical support. It ensures the wireless remote control of engines (to include boats with only one engine also, horn, bow thruster, stern thruster and one or two Anchor windlasses). Dockmate Twist also provides wireless joystick control for engines and thrusters including proportional thrusters and full function control of Volvo Penta IPS drives.
The transmitter, worn with a neck strap, has a signal which reaches up to 50 meters, is completely waterproof and floats.
In its most simple configuration, the transmitter sends a coded digital signal to the receiver which operates the gears and horn. The system can be modularly extended with a bow thruster, stern thruster and up to 2 windlasses. Dockmate requires installation and configuration to the vessel, works on both 12 and 24V boats as well as metal boats; and can be converted to work with engines that have mechanical push/pull cables. All handsets switch off after 30 minutes of non-use and have re-chargeable batteries and a USB cable for charging. In addition, the Twist handset has cordless inductive capability.