Drug-busting USCG Cutter 'Legare' Returns to Homeport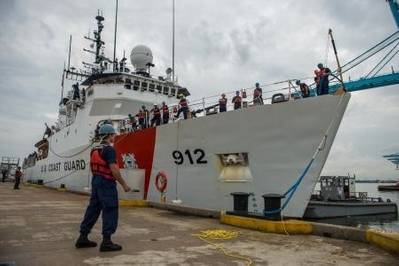 The crew of the Coast Guard Cutter 'Legare' returned to their homeport of Portsmouth Monday following an 8-week patrol in the Caribbean Sea in support of the Joint Interagency Task Force South.

While patrolling near Puerto Rico in early August, the Legare crew launched their embarked helicopter to locate a go-fast vessel. When the vessel refused to stop as directed by the helicopter crew, they used approved tactics, including disabling fire, to compel the vessel to stop.

Legare's small-boat crew boarded the disabled vessel and subsequently recovered 41 bales of cocaine from the water, with a total weight of more than 2,500 pounds and a wholesale value greater than $35 million. This seizure was the first in the Sector San Juan area of responsibility using the combined capabilities of HITRON helicopter and a major cutter.

Upon leaving homeport in June, the Legare's crew participated in Tailored Ship's Training Availability , a biennial dedicated training period designed to assess the efficacy of the ship's training teams as well as the ability of the crew to effectively perform across mission areas.

The Legare is a 270-foot cutter homeported in Portsmouth. The vessel and crew execute maritime law enforcement, homeland security and search and rescue missions in support of Coast Guard operations throughout the Western Hemisphere.