Promas With Nozzle Offers Imporved Fuel Efficiency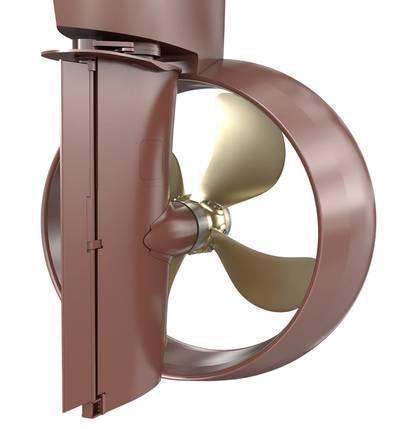 Promas is a Rolls-Royce propulsion system that integrates the open-water propeller and rudder of a conventional shaftline into a hydrodynamically-efficient entity.

A tapered hubcap is fitted to the hub of the propeller and leads the water flow on to a bulb which forms part of the spade rudder. The rudder has a twisted leading edge, optimized for the flow from the propeller, which converts into additional forward thrust some of the swirl energy in the slipstream that is normally lost. According to the manufacturer, Promas installations on merchant vessels have given propulsion-efficiency improvements up to 6-8% on new buildings, and up to 15% on upgrades of existing vessels.

Building on this success, Rolls-Royce has further developed the Promas system to suit applications where there is a requirement for a high bollard pull, such as anchor-handling offshore vessels (AHTS) and tugs. The operational profile of many offshore vessels is different from merchant ships, requiring both a large pulling power at low speed and a high free-running speed in transit.

The Promas with nozzle system is designed for these varying operating modes, in the case of anchor-handlers offering an increase in propulsion efficiency in both modes. The complete AHTS installation comprising Promas with nozzles and optimized propellers and rudders, can reduce fuel consumption in transit by 15%, and in some cases more, with a consequent cut in emissions. It can also improve the bollard pull by typically 5%.

This system unites a new type of nozzle with an optimized propeller, hubcap, rudder bulb and a special rudder profile. Components are designed to work together to provide a ducted system, maximizing efficiency and minimizing disturbances to the water flow both through and around the nozzle. The profile of the InnoDuct nozzle for the new Promas system has been developed through CFD analysis and testing, and represents a major advance on the 19A profile which is used for conventional nozzle propeller installations.

Water flow leaving the nozzle interior passes over a rudder of special profile developed to provide very high steering side forces yet minimum drag. Depending on the exact requirements the rudder may be either a one piece design or a medium flap type.