Egypt to Open New Suez Canal on Aug. 6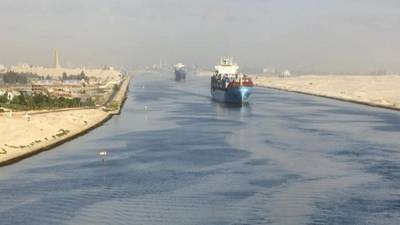 Egypt's new Suez Canal is expected to open in early August in a project President Abdel-Fattah el-Sissi sees as a potent symbol of national pride and to boost the country's battered economy, according to a report in Reuters.
The president ordered the new waterway to be dug in a single year, saying that the urgency of Egypt's economic situation meant the project could not wait for an originally planned three-year timetable.
The army began work 10 months ago on the new canal, built alongside the existing historic waterway at a cost of US$8 billion and part of a multi-billion-dollar project to expand trade along the fastest shipping route
between Europe
and Asia. The Suez Canal is a vital source of hard currency for Egypt, particularly since a 2011 uprising that scared off tourists and foreign investment.
The government aims to more than double annual canal revenues to some $13 billion in less than a decade, although that ambitious goal depends largely on rapid growth in world trade. The canal drew in $5.5 billion in revenues last year; it's most lucrative since it was first opened in 1869.
Called the Suez Canal Axis, the 72-kilometer new project involves a 37-kilometer new waterway and deepening and expansion of the existing 145-year-old Suez Canal along a 35-kilometer stretch.
"The digging and dredging works will conclude on July 15. The opening of the New Suez Canal will be on August 6, according to the orders of the Egyptian people and the Egyptian president," said Mohab Mameesh, the chairman and managing director of the
Suez Canal Authority
.
"Once President El Sisi orders the start of navigation on August 6, ships will be able to go through the canal," he added.