Eighty-two Crowley Vessels Earn Safety Awards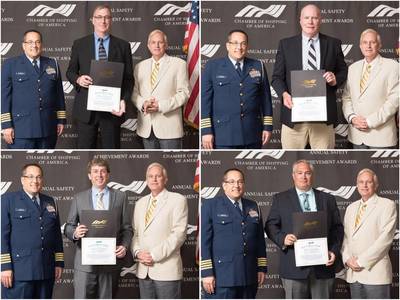 Eighty-two Crowley Maritime Corporation vessels recently received the Chamber of Shipping of America (CSA)'s annual Jones F. Devlin Awards in recognition of their outstanding safety records in 2017. Each year the CSA grants Devlin Award certificates to manned merchant vessels that have operated for two or more years without incurring a lost time injury (LTI), specifically highlighting the skills and dedication of the crewmembers responsible for safe vessel operations.
Crowley's 2017 Devlin Award-worthy vessels together have achieved an impressive total of 613 years of service without an LTI. Of the 82 awarded, 24 have gone without incident for 10 or more consecutive years. Crowley's vessels have earned Devlin Awards annually since 2005.
Additionally, eight ships received Citations of Merit for their actions. For example, the Eagle Bay (Washington) was recognized for its diversion in response to a distress call where a disabled sailboat was adrift in high wind and seas. The crew provided a lee for the sailboat for three days as they slowly made their way toward the coast, providing fuel and provisions as needed until a U.S. Coast Guard cutter assumed the escort.
"CSA's members are committed to safe operations and CSA's involvement in safety is longstanding with our ongoing commitment to represent the industry, domestically and internationally, on safety issues encompassing every facet of ship operations," said CSA president Kathy Metcalf. "It is only fitting that an industry so focused on safety, publicly recognizes the skills and dedication of the women and men who have enabled these many years of safe operations and who are responsible for actions in keeping with the highest traditions of the sea – aid to those in peril."