Marshall Islands Extends Electronic Logbook Approval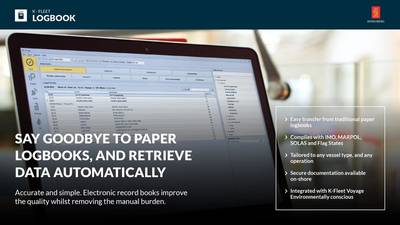 The Maritime Administrator of the Marshall Islands has extended its approval of the K-Fleet Logbook system, enabling more than 4,000 flag state registered vessels to introduce digital reporting for oil record and garbage record logbooks. The approval states that K-Fleet Logbook may now be used to fulfill the requirements of the Marshall Islands Maritime Regulations (Marine Notice No. 7-041-5) to maintain a deck and navigation log, an engine room log, an oil record book, cargo record book, a garbage record book and a radio log.
As part of the K-Fleet suite of Marine Fleet Management Software, K-Fleet Logbook is a secure, modular solution for digital reporting under IMO, Marpol, SOLAS and flag state requirements. The system collects data from ship systems into central data storage manually or automatically, and supports event based recording of data related to navigation, engine, oil record book, garbage handling, port calls and other operational activities. By enabling automated and electronic data entry using K-Fleet Logbook, daily reporting tasks become less time consuming, reducing workload for officers to focus on operational tasks.
"Many shipping companies are in the process of digitalizing operations so this acceptance is highly important to us and the 4000 plus vessels registered to the Marshall Islands, who can now record more activity through our K-Fleet Logbook solution and integrate it with K-Fleet. We hope that this will catalyse further acceptance in other major flag states, enabling even more ships to meet their reporting requirements effectively," commented Rune Kr. Stålstrøm, Product Manager – Vessel & Fleet Performance, Kongsberg Maritime.
As part of the approval notice, The Maritime Administrator of the Marshall Islands emphasized K-Fleet Logbook's ability to be integrated with the K-Fleet Voyage application to monitor and report daily voyage data in support of and to meet the compliance needs of the forthcoming requirements of new EU-regulation 2015/757, which is a result of the EU calling for a global approach to reducing
greenhouse gas emissions from
international shipping.
Kongsberg Maritime introduced a new Carbon Dioxide (CO2) Monitoring, Reporting and Verification (MRV) application for the K-Fleet suite in December 206. The solution has been assessed as meeting the EU requirements, which entered into force on 1st July 2015, the regulation will be fully effective on January 1, 2018, when large ships using EU ports will be required to report their verified annual emissions and other relevant information.
The K-Fleet suite integrates
diverse applications into
a powerful system for ship management at the single vessel, fleet and shore-office levels. It is a modular software system designed to assist users' working processes within planned maintenance, inventory management, procurement, QSE, documentation, forms, certificates, voyage reporting and fleet operations. Built on an SQL platform, K-Fleet offers centralized and decentralized management functions and two-way data flow for fleets of all sizes. K-Fleet and the K-Fleet Logbook system (shoreside) are also available on Kongsberg's brand new digital platform, kognifai.