VIDEO: HMS Queen Elizabeth Floats Out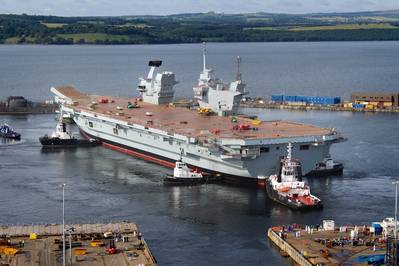 A timelapse video of HMS Queen Elizabeth floating out of her dock for the first time is now available at http://www.youtube.com/watch?v=P0ZjQz9vEKw.

The float out of the 65,000-metric-ton aircraft carrier took place last Thursday, July 17, at the drydock in Rosyth near Edinburgh.

Teams will now continue to outfit the ship and steadily bring her systems to life in preparation for sea trials in 2016. The dock she vacates will be used for final assembly of her sister ship, HMS PPrince of Wales, which will begin in September.

Newbuilds HMS Queen Elizabeth and HMS Prince of Wales, the U.K.'s largest ever warships, are being delivered by the Aircraft Carrier Alliance, a partnership between the Ministry of Defence, BAE Systems, Babcock and Thales.