Older Markey Equipment Doesn't Fade Away ...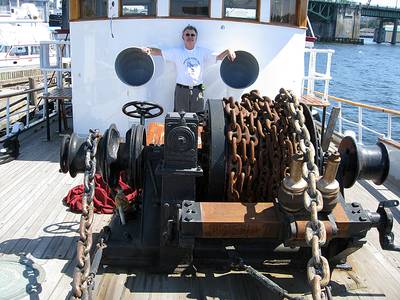 It Just Comes Home for New Life.

The late W.C. "Bill" Markey, President of Markey Machinery for over 40 years (1948 to 1988) coined a simple phrase for the company's design philosophy, "Built Hell For Stout". As a result, an extraordinary number of Markey deck machines manufactured during that era (and after) are still in service today.

As a result, customers often contact Markey for service parts and/or complete overhaul of a winch that is over 50 years old. Much of the company's older equipment is "cross-decked" (moved to a new vessel) after the vessel it was originally installed on is retired. Sometimes the original vessels find new life in a new role.

In 2012, Markey created an "Alumni" web page, featuring pictures, video, and short stories about "senior systems" that are still in service, or have returned to the factory for refurbishment. Since the company has maintained extensive records and all of the manufacturing drawings for this equipment, new owners are sometimes surprised at just how much history the company can provide on an old piece of deck gear. One such situation recently occurred when Nancy Everds and partner Peter Mann reached out to Markey regarding an anchor windlass on a wooden boat they are rebuilding as a future ocean-based home and yacht:

"We think that our winches on our boat were constructed/installed by Markey (see attached photo). We own a 1941 wooden boat that was an Alaska Survey Vessel built at Sagstad in Ballard. She was named Patton originally (sister ship to the Lester Jones, now named Summer Wind), and was decommissioned in the 1960s and then named Challenger, St. Croix, and Triton. We renamed her Gyrfalcon. At some point, we'll probably want to have you guys take a look at our winches, assuming that you did the original work. In the meantime, I just wanted to get in touch and see if you knew anything about our boat winches (www.gyrfalcon88.wordpress.com)."

The couple was amazed when Markey V.P. Robert "Bobby" LeCoque promptly replied, "The attached scan includes the original outline drawing (AW-525) and the original proposal from Markey to S.E. Sagstad dated Oct. 1940 for the anchor windlass aboard the Patton. No problem taking a look at the winch and we can supply new components too, as we still have all of the original drawings." They have indicated that as refurbishment work proceeds, their particular piece of 73-year-old Markey equipment will "come home" to receive some "TLC"; and be returned to "factory-new" condition.

W.C. Markey would be proud. The tradition of "Built Hell for Stout" is alive and well, and continues to be supported by the company that he devoted his lifetime to.

Founded in 1907, Markey Machinery is the leader in the design and manufacturing of high quality custom deck machinery for workboat, scientific, and dockside applications. Markey products include towing, shipassist, and escort winches; single or multi‐drum and traction‐style deep sea research winches; capstans, windlasses and other high performance machines.