New Europe-Asia Heavylift Service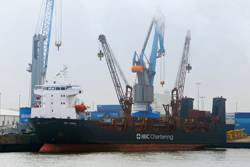 BBC launches new heavy-lift cargo service between Europe and Asia.


On 26 March 2012, the BBC KARAN was the first vessel in the new Europe-Asia service of the multi-purpose and heavy-lift cargo shipping company BBC Chartering to berth at C. Steinweg (Süd West Terminal) in the Port of Hamburg.

In Hamburg, the new "BBC Euro-Asia Express Line" service will be offering bi-weekly eastward sailings to Asia. Alongside Hamburg, export cargo for Asia will be loaded at the following European ports: Rauma, Kristiansand, Antwerp, Bilbao and Porto Maghera. The following ports of discharge are on the schedule in Asia: Port Kelang, Singapore, Batam, Ho Chi Minh City, Haiphong and Hong Kong in South East Asia as well as Shanghai, Masan, Busan, Kobe and Yokohama in the Far East.

The freight vessels deployed will be shipping cargo westward every three weeks from Asia to Europe. On this transport route, cargo will be loaded in Masan, Yokohama, Shanghai and Singapore and discharged in Mariupol, Genoa, Bilbao, Antwerp and Hamburg. The first vessel of the "BBC Euro-Asia Express Line" from Asia – the BBC BALTIC – is expected to arrive in Hamburg on 20 May.

Within the "BBC Euro-Asia Express Line", mainly multi-purpose ships are deployed with dead weight tonnate of 7,200 each. Moreover, the units deployed also have ice class ratings, enabling them to sail all year. The BBC KARAN is 127 metres long, 20 metres wide and equipped with two on-board cranes that can lift 150 tons each or 300 tons in combination. Where necessary, BBC deploys heavy-lift tonnage with a combined lifting capacity of 800 tons.

The new heavy-lift cargo service underscores Hamburg's significance as a universal port. A total of approx. 1.4 million tons of conventional general cargo were exported via Hamburg in 2011. The lion's share is accounted for by exports of heavy and pro-ject cargo with roughly 684,000 tons.