Explosion Injures Firefighters Battling RoRo Blaze in Jacksonville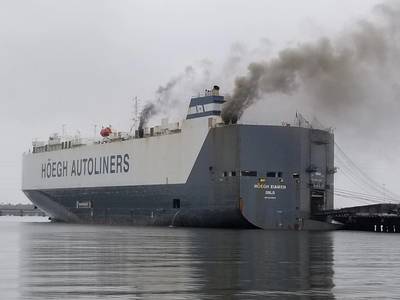 An explosion injured several firefighters battling a blaze on board car carrier Höegh Xiamen at berth in Jacksonville, Fla. Thursday.
The eight responders have been transported to the hospital for serious injuries, including two taken by air and two by ground to to Shands Gainesville burn unit. They are all in stable condition.
All of the ship's 21 crew members are off the ship, uninjured and accounted for, the Jacksonville Fire and Rescue Department (JFRD) said.
The U.S. Coast Guard said its watchstanders at Sector Jacksonville were notified at 3:53 p.m. of a fire on board the 600-foot roll-on/roll-off (RoRo) ship and immediately alerted JFRD and Jacksonville Sheriff's Office, issued an urgent marine information broadcast and directed the launch of a Coast Guard Station Mayport 45-foot Response Boat—Medium crew.
The Höegh Xiamen's owner Höegh Autoliners said the fire started shortly after the ship completed loading operations at Blount Island. Authorities believe the fire broke out on the ship's seventh deck before spreading through several other levels up to the 11th deck.
JFRD special operations and haxmat personnel are among at least 120 responders said to be on scene battling the three-alarm fire. The fire department expects the response effort will go on for several days, it said on Twitter.
JFRD Cheif Keith Powers told local media the vessel's fire dampers have been shut in an effort to starve the fire of oxygen. He said firefighters on board are dealing with zero visibility and enough heat to make the paint peel off the outside of the vessel. One firefighter is being treated for heat exhaustion.
Officials plan to place a boom around the vessel to prevent the spread of pollution, though no environmental impacts have been reported so far.
The Coast Guard set a 500-yard safety zone around the Norwegian-flagged Höegh Xiamen. Powers said the carrier is loaded with used cars that were to be transported from Jacksonville.
The 12,250 dwt Höegh Xiamen is a 4,900 ceu vehicle carrier built in 2010 and currently operated via vessel charter by Grimaldi Group. AIS data shows the ship's most recent port call was Freeport, Texas. Its next scheduled stop was to be Baltimore.
The Jacksonville Port Authority (JAXPORT) said its other cargo operations have not been impacted by the incident. The Northeast Florida commercial cargo port is one of the largest on the Atlantic Coast and is among the nation's busiest car ports.
The cause of the fire is under investigation.
(U.S. Coast Guard photo by Jessica Maldonado Gonzalez)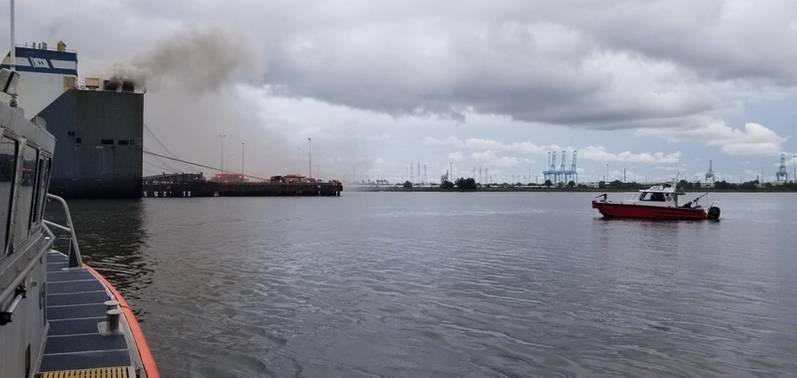 (U.S. Coast Guard photo by Jessica Maldonado Gonzalez)