Human Error Found in Walla Walla Motor Failure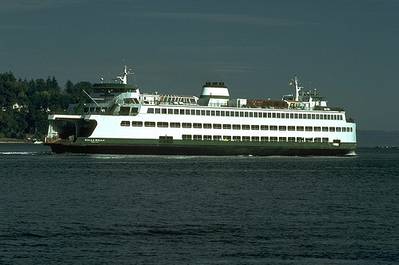 WSF to improve communications and maintenance procedures

A three-month safety investigation recently concluded that human error was responsible for the failure of an electric drive motor that removed the 188-car ferry Walla Walla from service.

According to the final report, investigators determined the motor failure was avoidable and resulted from mistakes made by Washington State Ferries personnel. The motor failure occurred Nov. 4, 2012 when the Walla Walla was undergoing routine annual maintenance at Eagle Harbor Maintenance Facility on Bainbridge Island. Mistakes included:
• Communication between engine crew and maintenance staff was insufficient.
• Eagle Harbor maintenance staff and the Walla Walla's engine crew improperly prepared electrical equipment for a complex maintenance procedure.
• No written procedures or checklists were available for this maintenance work, which is rarely performed on the Jumbo-class Walla Walla.

Immediately after the incident, WSF followed agency protocol and opened an internal safety investigation. WSF also hired the Cadick Corporation, an electrical power system engineering firm, to assist in the investigation as a third-party expert.

"We conducted a thorough and detailed investigation into what happened and why," said David Moseley, Washington State Department of Transportation assistant secretary, ferries division. "Safety is our number-one priority at WSF. We need to learn from these mistakes and focus on improving complex maintenance practices."

WSF is taking necessary steps, based on the investigative panel's recommendations, to prevent future incidents of this nature, Moseley said. These steps include:
• Give appropriate training prior to the specific work for infrequent complex maintenance activity.
• Establish and follow checklists and associated written procedures for the infrequent complex maintenance activity.
• Mandate pre-work meetings prior to work being performed on vital equipment with all associated personnel.
• Explore the feasibility of either additional alarms or interlocks to handle the situation of a non-rotating motor with loop current flowing through it.
• Reinforce established lock out/tag out procedures, and ensure detailed entries of equipment components rather than non-specific descriptions.

Immediately following the panel's recommendations, WSF implemented pre-work meetings prior to work being performed on vital equipment, and developed checklists and written procedures for the maintenance activity that resulted in the motor failure of the Walla Walla. WSF has established a timeline to implement the other recommendations in the report over the next several months.

The November incident occurred during a scheduled procedure on an electric drive motor, one of four propulsion motors aboard the Walla Walla. The procedure required WSF vessel engineers and maintenance staff to engage an electrical current to power two of the motors in separate motor rooms located at each end of the vessel. According to the report, crews improperly set electrical circuits to prevent the current from reaching an inactive motor in an unstaffed motor room. The current melted vital parts of the inactive motor over a period of 40 minutes.

Investigators concluded that two separate crews each assumed the other had taken proper steps to safely contain the electrical current. The crews' lack of familiarity with the system's circuitry and reliance on inadequate institutional knowledge were contributing factors, as well.

No one was injured in the incident.

To return the Walla Walla to service, WSF has been working with the drive motor manufacturer to refurbish WSF's only spare motor for Jumbo-class ferries. After installing the refurbished motor, crews will begin extensive testing and sea trials. The Walla Walla should return to service in April. The total cost of repairs is estimated at approximately $3 million.