Fire-fighting Experts Reboard 'MSC Flaminia' After Storm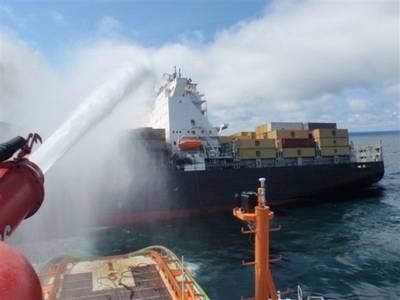 'MSC Flaminia', fire still smouldering in No. 7 hold, boarded again after foul weather in UK Western Approaches.
The ship managers report as follows:
Thanks to improving weather conditions, a team of firefighting experts is able to board MSC FLAMINIA and continue the salvaging efforts today. Boarding had not been possible since July 30 2012.
The current measures aim at inspecting areas which had not been accessible so far. Also, data is being collected to calculate and assess the stability of the vessel.
Smoke emission in cargo hold 7 has declined significantly. Temperatures in this area are also dropping again. Currently, no cooling by the accompanying tugboats is necessary.
MSC FLAMINIA is still listing by approximately 10 degrees.
A decision to enter a sheltered coastal area has still not yet been made.