USS Fitzgerald Arrives in Pascagoula for Repair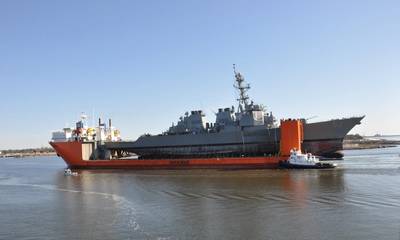 U.S. Navy warship USS Fitzgerald, which was damaged and nearly sunk after a fatal collision with a cargo ship in June and then was damaged again while on board a heavy lift transport vessel, has arrived in Pascagoula, Miss., for repair work at Huntington Ingalls Industries shipyard.
that killed seven U.S. Navy Sailors.
The Navy expects work on the ship to occur on a land level facility throughout 2018 and one to two quarters of 2019, followed by an extensive test and trials period to ensure all systems and spaces are restored to full functionality and operational capability. The entire restoration and modernization effort is expected to complete approximately 24-months post work commencement on the ship.