Five (More) New Products to Find @ SMM 2018
The SMM 2018 scheduled to take place September 4-7, 2018, in Hamburg, Germany, is held every two years and is the traditional launching platform for a variety of commercial shipping and shipbuilding technologies. Five new marine technologies to look for in Hamburg include:

Company: Radio Holland
Booth: B6.301
Product: Radar, Service, BWT
Radio Holland, known for its global service network, shows its network at SMM as well as new
developments and innovations in its network. Most important themes at the Radio Holland stand
• The 55-year partnership between Radio Holland and Furuno: Radio Holland will celebrate 55
years of cooperation with its equipment partner Furuno. On show also the latest FURUNO FAR-
22x8/23x8 series, including ECDIS FMD3200 and the Furuno Voyager Bridge system
• The Global Service Network, latest innovations in service calls, class surveys, remote
monitoring and showcasing examples of the growing number of partnerships with customers in
cost-saving Managed Service Agreements
• Ballast Water Treatment: Radio Holland, together with its subsidiary Venteville presents the
Bio-Sea BWT skid
• Latest regulations and guidelines: a.o. the firefighting portable radios, BWT, cyber security
and more.
• Also on show: Latest Hatteland innovative maritime displays, Danelec VDR solutions, Cobham
Sailor 3965 firefighting portable radios and the VSAT V-600, Skipper speedlog DL2, Thrane
Iridium LT3100.

Company: Raytheon Anschütz
Booth: B6.304
Product: New Radar NX Software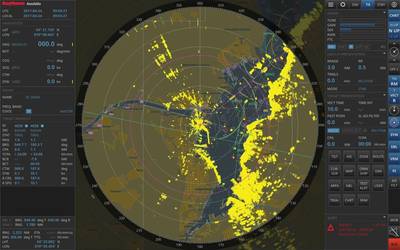 Image: Raytheon AnschützRaytheon Anschütz offers a new navigational radar and chart radar software. It is designed withan intuitive user interface and a smart range of scalable functionality characterize the newSynapsis Radar NX application. With the new radar and chart radar application, Raytheon Anschütz
completes the Synapsis NX series of innovative bridge navigation systems. The optimized
grouping of data and current settings provides operators with clear situation awareness. In
addition, the quick access bar makes the most often used operations and functions available at a
fingertip. Operators benefit from a superior non-distracted overview, situation awareness and a
fast interpretation of the radar picture.

Company: SKF
Booth: A1.210
Products: Four New Products to Launch
SKF will showcase a range of new products that help owners and operators comply with present and
future environmental regulations, as well as help them improve maintenance processes and
performance. SKF will launch four new products, including:
SKF's new environmental-friendly shaft line solution – Simplex BlueRun.
SKF's EcoMode, software to ensure optimized fin stabilizer operation
Turbulo SolidMaster, a filtration unit that precedes an oily water separator and
mechanically removes suspended solids in the bilge water.
Turbulo HycaLogger, an electronic tool/log book to log raw data of the oily water
separator i.e. all oil discharges from the oily water separator.

Company: Thordon Bearings
Booth: A4.124
Product: Shaft bearing & seals


Thordon Bearings will present its propeller shaft bearing and seal systems, COMPAC andSeaThigor. Thordon will also use the SMM platform to announce a pioneering new development in
seawater lubricated shaft bearing technologies. Although this major development currently
remains under wraps until the event, Thordon will also release the findings from its research
paper Our Future, Our Ocean. Key figures from ship owning companies and environmental agencies
will also be available to discuss the merits and sustainability of seawater lubricated
propulsion.

Company: V. Group
Booth: B3.EG 105
Product: Digital Transformation
Digital transformation and mobility are in focus for London-headquartered global marine services
provider V.Group at SMM 2018. The company has taken a position at the forefront of
digitalization with the ShipSure 2.0 marine digital platform enabling its clients to access and
leverage the power of busi-ness and operationally critical data. ShipSure 2.0 is designed to
give V.Group clients more control and transparency across their fleet, with real-time data on
the desktop, and uniquely iOS/Android tablets and smartphones anywhere in the world. The
objective is to ensure that ship owner teams can leverage data driven insight for decision
making on the move, with real-time information from across the operational and business
spectrum, from marine technical to safety & compliance, procurement, crewing and finance.