Boskalis, KOTUG Joint Venture Formalized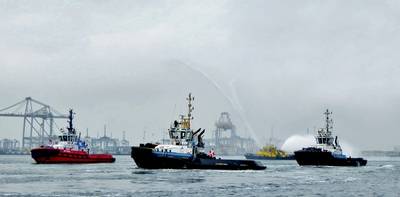 KOTUG and Boskalis reach agreement to merge European harbor towage operations

Royal Boskalis Westminster N.V. and KOTUG International B.V. have reached a formal agreement to merge their European harbor towage operations following on a Memorandum of Understanding signed by the parties in late 2014.

The combined operations will be transferred to a 50/50 joint venture bringing together the European harbor towage activities of KOTUG and Boskalis subsidiary SMIT, operating under the new name KOTUG SMIT Towage.

The scope of the joint venture will encompass the harbor towage operations of SMIT in Belgium, the Netherlands and the United Kingdom, as well as the harbor towage operations of KOTUG in Germany, the Netherlands and the U.K., while the activities of both partners in other parts of the world are excluded from this cooperation.

The joint venture will serve 11 ports in four countries with a fleet of 65 tugboats. The total combined revenue is approximately €150 million.

Peter Berdowski, CEO of Boskalis, said, "This joint venture is an important next step in the implementation of our harbor towage strategy aimed at concentrating and expanding our harbor towage services in regional partnerships. We have already generated substantial value and experience with this type of partnership at Smit Lamnalco, Keppel Smit Towage and SAAM SMIT Towage. By joining forces in northwestern Europe we will be able to provide even better and more efficient services to our clients."

KOTUG's CEO, Ard-Jan Kooren, said, "The combined operation will allow us to meet the increasing demands of our international clients in order to supply them with an even higher level of efficiency and port call optimization. In this consolidating market we can offer competitive services against the highest operational and safety standards within the industry."

The financial close is expected to take place in the first quarter of 2016, followed by the operational integration. Boskalis said the financial close will free up around €90 million in cash for the company, primarily as a result of refinancing the operations.