San Francisco Orders a New Fire Boat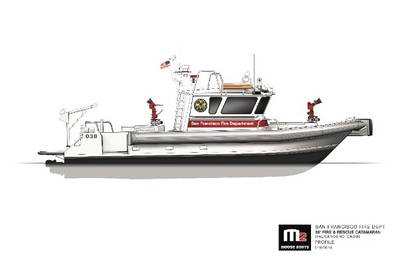 California boat builder Moose Boats said it was awarded a contract from the San Francisco Fire Department for the construction of a M2-38 Catamaran CBRN, Dive and Fire Rescue vessel to enter service in the third quarter of 2018.
The aluminum catamaran, which is 75 percent funded by FEMA's FY2015 Port Security Grant Program, will be powered by twin Cummins QSB6.7 425hp turbo diesel propulsion engines with Hamilton HJ292 waterjets.
Serving primarily as a dive and rescue boat, the vessel will be outfitted with an integrated dive/recovery platform and a bow ladder for beach rescues. It will also be equipped with a Hale fire pump flowing in excess of 1,500 gallons per minute of fire suppression water,
radiation detection
equipment and CBRN positive pressure cabin filtration. A heavy-duty push knee will enable the M2-38 to come in contact with larger vessels and San Francisco's many piers.
The vessel will be equipped with a host of
electronics including
a Simrad multifunction navigation screen, radar and 3D side scan sonar, L3 AIS, FLIR stabilized thermal imaging camera, Icom communications radios and an OTS diver recall system.