LCS 'USS Freedom' to Deploy Shortly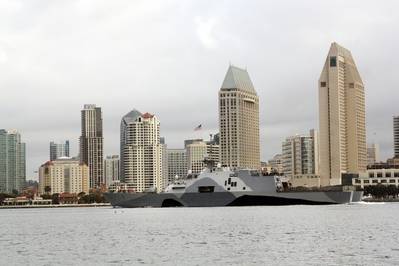 The littoral combat ship USS Freedom (LCS 1) is on track to begin its first deployment March 1, 2013.
This milestone was announced by the LCS Council, a group established by Chief of Naval Operations Adm. Jonathan Greenert to oversee continued fleet testing and the introduction of the LCS.

LCS ships are designed to employ mission packages that address capability gaps in the areas of surface warfare, mine countermeasures, and anti-submarine warfare.

Due to its modular design, each LCS ship can be reconfigured to perform one of those three distinct missions in a short period of time.



Freedom's deployment will demonstrate her operational capabilities, and allow the LCS Council to evaluate crew rotation and maintenance plans. 

The ship will operate forward from Singapore and spend eight months in theater conducting maritime security operations, participate in international exhibitions and exercises to highlight U.S. strategic intent in the region, and reassure U.S. partners through bilateral and multilateral interoperability.