GE LM2500 Approved for US Navy Application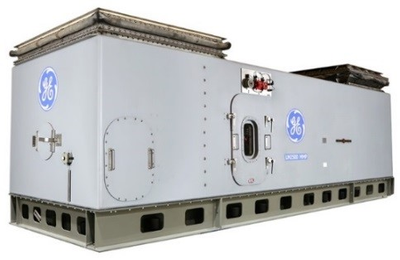 GE Marine's new lightweight LM2500 composite gas turbine module and updated components are now fully certified by the United States Navy after receiving MIL-S-901D shock qualification, the company reported at the Sea Air Space 2019 industry exhibition
U.S. Navy approval was obtained after the successful shock test of the composite module and the submittal of a comprehensive assessment of the changes to the LM2500 system. Changes include the composite module, components, and fewer shock mounts for weight reduction all while leveraging the experience and loadings from previous LM2500 shock tests with running units.
Further, the U.S. Navy and General Dynamics Bath Iron Works approved the Engineering Change Proposal for the LM2500 modernized composite module, meaning the initial application will be onboard the future USS Ted Stevens DDG 128, the 78th Arleigh Burke-class destroyer. This surface combatant will feature four GE LM2500 marine gas turbines and will be constructed by Huntington Ingalls Industries.
Austal USA quickly adapted the weight-saving composite enclosure and will now incorporate this new module on the Littoral Combat Ship #32 (the future USS Santa Barbara) and up. A number of other U.S. and international programs also are very interested in this new module design.
The recent shock certification of the modernized module was an accumulation of a robust U.S. Navy specification qualification process. First, in April 2018, a LM2500 gas turbine with a base, new composite module and updated components were successfully shock-tested at HI-TEST's facility in Arvonia, Virginia. HI-TEST is a Naval Sea Systems Command (NAVSEA)-approved facility for MIL-S-901 high impact shock testing.
Second, components such as sensors, transducers, ice and flame detectors and the heater also were updated. The updated flame detector now features multi-spectrum infrared to the greatest field-of-view protection and longest detection range. All components completed thorough military specification testing such as vibration and electromagnetic interference. Finally, and most recently, the entire gas turbine and MMP module as a system obtained U.S. Navy Grade A MIL-S-901D shock qualification.
Earlier, full scale operational testing at GE verified a 50% wall weight savings, 60% quieter enclosure, and improved access to the module for sailors. In addition, by using lightweight composites versus the steel enclosure predecessor, lifecycle costs associated with rusting components are eliminated. This new module design provides improved access to the engine, and with wall temperatures 25oF to 50oF degrees cooler, there is less heat rejected into the engine room.

Looking ahead
The U.S. Navy plans to purchase up to 20 new FFG(X) frigates that are more lethal than the present Littoral Combat Ships. GE believes its LM2500 family of proven marine gas turbines are the right size to power this new frigate program. Separately, GE's LM2500 family of gas turbines also is being considered for the U.S. Navy's Large Surface Combatant program that will replace the DDG 51 destroyers.
With a GE gas turbine, the U.S. Navy has worldwide support whether onshore or at sea, and interoperability benefits with other U.S. Navy and allies' vessels. GE has delivered gas turbines onboard 646 naval ships serving 35 navies worldwide and provides 97% of the commissioned propulsion gas turbines in the U.S. Navy fleet. With GE's split casing compressor and power turbine design, in-situ maintenance is allowed making a gas turbine removal unnecessary; navies save millions of dollars a year and weeks/months of ship unavailability.