NYC Ferries: Gladding-Hearn Building Three New Vessels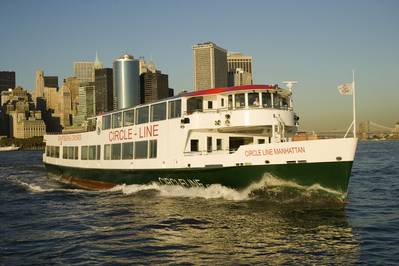 Gladding-Hearn Shipbuilding, Duclos Corporation, has begun construction of the first of three new sightseeing vessels for Circle Line Sightseeing Cruises, Inc., in New York City.
A keel-laying ceremony at the Somerset-Mass., shipyard in January, was held in commemoration of the Circle Line's 70th anniversary year. The new boat order follows the shipyard's delivery of three sister- ships for the company in 2009. Delivery of the first new vessel is scheduled for 2016.

According to Costas Markou, president and chief operating officer of New York Cruise Lines, the Circle Line parent company, "The new vessels will offer guests an enhanced sightseeing experience on every level. Notably, visitors will enjoy upgrades in classes of service and the introduction of a variety of new and innovative experiences, including improvements in content and entertainment options, viewing sight lines, as well as enhanced food and beverage selections."

Like the earlier vessels, the new 600-passenger all-steel vessel, designed by DeJong and Lebet, N.A., in Jacksonville, Fla., measures 165 feet in length and features a 34-foot beam.
With a top speed of 14 knots, the vessel will be powered by twin Cummins QSK-38M1 diesel engines, delivering a total of 2600 hp and connected to ZF W3355 gear boxes, spinning 60-inch, 5-bladed bronze propellers. For dockside maneuvering, the vessel is equipped with a 125 hp Wesmar bow thruster, powered by an electric motor. Two 140 kW generators will supply the ship's service power. The vessel will carry 8,200 gallons of fuel and 4,000 gallons of potable water.

The pilothouse is equipped with port and starboard wing stations, in addition to the center console.

Interior accommodations include seating and tables for 275 passengers in the main cabin. The second deck provides seating and tables for another 150 passengers indoors, plus reserved seating for up to 50 VIP passengers, and outdoor seating for 88 passengers. Aft of the pilothouse on the third deck will be outdoor seating for 84 passengers under a fixed canopy. The cabins are arranged for significantly improved concession areas, cocktail bars and wheelchair-accessible heads. Heating and air-conditioning is supplied by a 210,000 Btu diesel-fired boiler and six 10-ton water-cooled chillers.

A crew room is located below the main deck and will be outfitted with storage cabinets, a refrigerator, shower and head, and walk-in cooler.