Globalstar Satcom Network Completed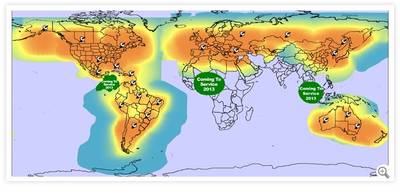 Globalstar, Inc. announce that all second generation satellites are now in full commercial service, completing the world's most modern satellite communications mobile network.
Global customer segments include: oil and gas, government, mining, forestry, commercial fishing, utilities, military, transportation, heavy construction, emergency preparedness, and business continuity as well as individual recreational users.
The company's new network supports its current lineup of voice, duplex and simplex data products and services, including its SPOT-branded consumer products which have initiated more than 2,500 rescues worldwide. These new satellites have a 15-year design life, doubling the life span of Globalstar's earlier satellites.
"As the first in the mobile satellite communications industry to establish a new and modern network, Globalstar is leaps and bounds ahead of the competition," says Jay Monroe, Chairman and CEO of Globalstar, Inc. "With the most modern network in place, Globalstar customers will be connected when it matters most, in emergencies, to continue business, or to connect with a loved one."

Globalstar point out that it is the only MSS provider using the patented Qualcomm-based CDMA technology, which provides crystal-clear voice quality from anywhere within its global footprint. Calls occur with no noticeable time delays on a network that transmits even a whisper.