Great Lakes Shipyard Launches Tug Wisconsin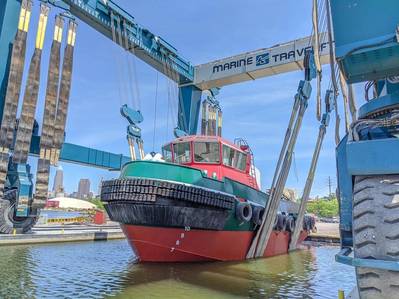 The Great Lakes Shipyard on Wednesday launched the new tug Wisconsin, the fifth in a series of 64-foot Damen Stan tug 1907 Ice design harbor tugs that the Cleveland, Ohio shipyard is building for The Great Lakes Towing Company.
Wisconsin, like its sister tugs, is powered by two 1,000-horsepower MTU 8V4000 Tier III diesel engines, and generates over 30-tons of bollard pull. Its propulsion system includes the Logan FlexaDrive Hybrid power system, allowing the tug to operate on electric power while at idle, underway at low speeds or when under low loads, without the need to utilize the main engines, reducing emissions and the cost of engine maintenance.
The tugs Cleveland, Ohio, Michigan and Pennsylvania were the first new tugs built in the series as part of the Towing Company's fleet renewal program.
The firm has recently committed to building a sixth tug (yet to be named), which is currently under construction and scheduled to be completed in Spring 2021.