This Day In Naval History: April 5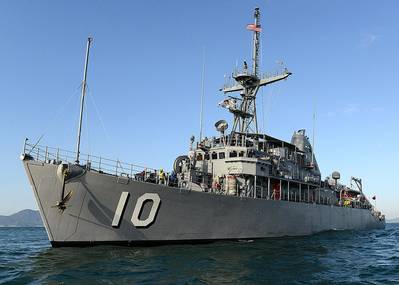 1943 - USS O'Bannon (DD 450) sinks the Japanese submarine RO 34 near Russell Island, Solomon Islands.
1944 - PB4Y aircraft (VB 109) sink Japanese auxiliary submarine chaser Cha 46 off Wake Island.
1946 - USS New (DD 818), named in honor of Medal of Honor recipient Marine Pvt. 1st Class John D. New, is commissioned.
1946 - USS Missouri (BB 63) transports the body of the late Turkish Ambassador to the United States, Mehmet Munir Ertegun, home for burial, on a mission that was also made to influence Soviet
Middle East policy
.
1951 - During the Korean War, Hospital Corpsman Richard De Wert is killed in action while administering first aid to an injured comrade. He is posthumously awarded the Medal of Honor.
1961 - A fire-fighting party from USS Prichett (DD 561) boards the burning Chinese tanker Kwang Lung at Kaohsiung Harbor, Taiwan, and extinguishes the fire before it spreads to a million gallons of gasoline.
2009 - USS Warrior (MCM 10) and USS Chief (MCM 14), along with the
Mexican Navy
, rescue two fisherman 36 miles off
Mexico
.
(Source: Naval History and Heritage Command, Communication and Outreach Division)