Pirate Hostages Released by German Warship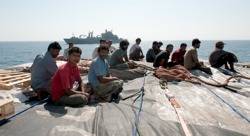 Gernan warship FGS Berlin attempts rescue 25 Indian hostages in the Gulf of Aden.
EUNAVFOR Warship FGS BERLIN received a call from a merchant vessel reporting that they had successfully repelled a pirate attack in the Gulf of Aden. The warship dispatched one of its helicopters to the scene and quickly located a skiff and an Indian flagged and crewed dhow. It was established that the dhow had been pirated and its crew of 25 Indian nationals were being held hostage.
The pirates threatened to kill their hostages if direct action were taken against them, but FGS Berlin at least succeeded in destroying two unmanned skiffs towed by the dhow, which then made off towards the Somali coast.