New Bunker Supplier Eyes Houston/Galveston Market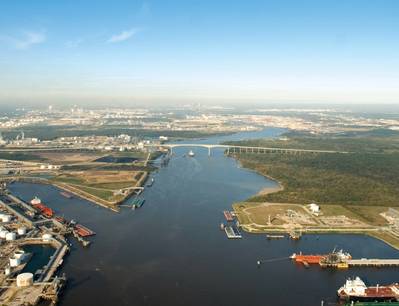 GCC Bunkers said it seeks to establish itself as a leader in developing compliance solutions for the IMO global sulfur cap in 2020 and is operated by principals Mark VandeVoorde and John Mafrige. Longer term, GCC is actively evaluating several processing or manufacturing opportunities for post 2020 bunker fuels to be produced in Texas. The Company has secured working capital funding from a Texas-based private equity group and has entered into agreements for physical marine fuels storage at
Texas International
Terminals in Galveston, beginning July, 2017.
GCC Bunkers will begin physical supply of marine fuel in the Houston and Galveston area in late May, 2017. The company will primarily focus on the supply of ECA compliant low sulfur marine fuels, immediately offering DMA 0.10 percent sulfur gasoil, and RMD 80 0.10 percent sulfur fuel oil starting in July. In addition, GCC will offer all other standard specification marine fuels to ship owners, operators and charterers, calling in Houston and Galveston area.
VandeVoorde brings almost 30 years of experience gained at Chemoil, FAMM, Chevron and Bomin. He is returns to marine fuels after a four-year gap during which he worked in project development in the chemical industry. "It's great to be back. The next few years will see massive disruption in the bunker industry. GCC will be a solution provider for bunker purchasers looking for consistent, compliant ECA fuel supply in the US Gulf Coast, both now and post 2020. The need to create quality supply solutions for the new IMO regulations is an exciting opportunity," VandeVoorde said.
Mafrige comes to the marine fuel industry with 25 years in both corporate investments and executive management within the energy,
alternative energy
, fuel products and petrochemical industries. In addition, he brings with him experience in the development of new technology enterprises that can turn disruptive market change into opportunity. "One has to think, that any viable solution to the issues presented by the 2020 IMO specification change will involve both new approaches and new fuel supply options. We plan for GCC Bunkers to be at the forefront of these efforts," Mafrige said.