Rolls-Royce to Power USN Hovercrafts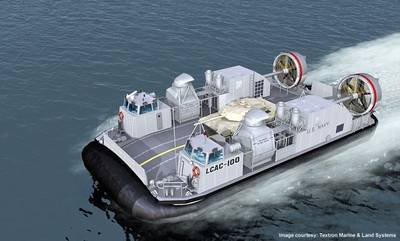 Rolls-Royce wins contract to power the U.S. Navy's future fleet of hovercrafts, known as the Ship-to-Shore Connector (SSC).

The Group will work with Textron Marine & Land Systems, an operating unit of Textron Systems, a Textron Inc. company, which has been selected to build the initial development craft, in a program that could extend to 73 craft. The SSC will replace the Navy's current fleet of Landing Craft Air Cushion (LCAC) hovercraft over the next 20 years. The new hovercraft will be used to rapidly deploy personnel and vehicles between U.S. Navy ships and the shore.

Each SSC will use multiple cutting edge Rolls-Royce MT7 gas turbines, derived from the highly successful AE1107 engine, which powers the US Marine Corps' V-22 Osprey tilt-rotor aircraft.

On each hovercraft, the MT7 gas turbines will be connected to a sophisticated gearbox system providing both propulsion and lift. Rolls-Royce will also design and manufacture the air intake and exhaust systems.

The MT7 combines modern turbine materials and technology to provide a state-of-the-art power system suited to a range of naval applications such as main propulsion and power generation. It leverages the robust performance and reliability of the Rolls-Royce AE engine family which has accumulated more than 45 million operating hours.

The MT7 is the latest Rolls-Royce gas turbine to be selected to power a major U.S. Navy program, and follows the MT30 which is already powering the Freedom class Littoral Combat Ships and will provide electrical power for the DDG-1000 Zumwalt class destroyers.