Hutchison Opens Terminal D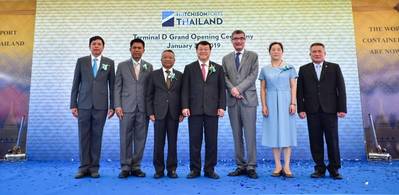 Hutchison Ports Thailand (HPT), the largest container terminal operator in Thailand, has officially opened Terminal D at Laem Chabang Port, , the most advanced deep-sea container terminal in the country.

Dr. Pailin Chuchottaworn, Deputy Minister of Transport, presided together over the official opening of Terminal D at Laem Chabang Port. Alongside the Deputy Minister of Transport, representatives from government agencies, the private sectors and other distinguished guests were also in attendance.

One of the most notable features of the new terminal is that it will be the first and only terminal at the Port to feature remote control technologies.

Terminal D is an integral part of Thailand' s Eastern Economic Corridor (EEC) under Thailand 4.0's objective to modernize the economy through improved infrastructure and innovation.

Terminal D will set a new global standard of port operations which upon on its completion will greatly facilitate the growth of container volumes at Laem Chabang Port.