Most Powerful Canadian Icebreaking Tug Enters Service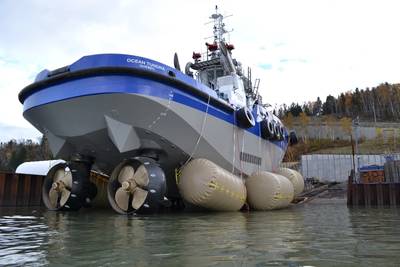 The 6000 kW ASD tug 'Ocean Tundra' has been commissioned into service by owners, Ocean Groupe Inc. (Ocean) of Quebec City, Canada. This icebreaking escort tug, say designers Robert Allan, becomes the most powerful tug in Canadian registry, and heralds a new generation of tugs which will provide year-round escort towing to Canada's east coast and the St. Lawrence River and Seaway system.
The 36m long Ocean Tundra is the latest addition to the TundRA 100 series (with a nominal 100 tonnes Bollard Pull) of icebreaking tugs designed by Robert Allan Ltd., Naval Architects of Vancouver B.C.. This tug was built to the highest standards at Ocean's own shipyard, Ocean Industries, on Iles aux Coudres, Quebec. The launching of this heavy tug was a major challenge for the shipyard, due to its high weight and draft. The tug was therefore launched with the pictured additional flotation provided by inflatable bags surrounding the hull.
This powerful tug has been designed to provide a wide range of services, including tanker escort, terminal support, general ship-docking operations and icebreaking/ice-management services in various ports along the St. Lawrence River. The vessel is also equipped for coastal and rescue towing and is equipped with a major fire-fighting capability. In addition the vessel is equipped to carry lube oil as cargo, for transfer to transiting ships.

Trials of the Ocean Tundra, classed by LR, were completed in early January 2014, and a free running speed of 15.12 knots was recorded. The range is 3,700 nautical miles at 12 knots. The ahead bollard pull was 110.3 tonnes.
The main propulsion for Ocean Tundra consists of a pair of MAK 9M25C diesel engines, each rated 3000 kW at 750 rpm, and each driving a Rolls-Royce US 305 CPP, 3000 mm. diameter Z-drive unit, in ASD configuration. The main engines, auxiliary engines are resiliently mounted for maximum noise and vibration isolation.

The electrical plant comprises three identical diesel gen-sets, Caterpillar C9, each with a power output of 250ekW, designed for independent or parallel operation.

For more information on this or any of the TundRA Class icebreaking tugs offered by Robert Allan Ltd., contact design@ral.ca