CMA CGM Reports Increased Net Profit in Q1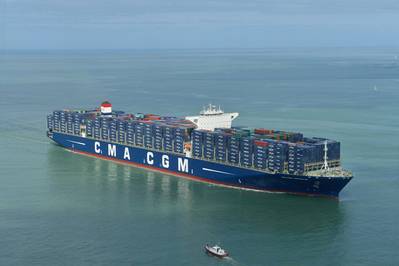 Container shipping company CMA CGM's board of directors met under the chairmanship of Jacques R. Saadé, chairman and chief executive officer, to review the financial statements for the first quarter of 2015.
For the first quarter of 2015, CMA CGM reported a rise in volumes by 10.5 percent to 3.1 million TEU, chiefly resulting from the increase in volumes on the East-West lines, particularly to and from the U.S., where volumes enjoyed sustained growth, and also from the launch of the Ocean Three Alliance.
The group said it has continued to actively optimize its lines, opening five new routes in the U.S. and extending its agency network up to 655 agencies in over 160 countries.
Consolidated revenue for CMA CGM was up 1.8 percent to $4.013 billion.
The group reaped the rewards of its operating efficiency and cost discipline as well as the sharp drop in bunker prices (bunker costs per TEU down 36.5 percent),
CMA CGM said
. Core EBIT margin leapt to $406 million, representing 10.1 percent of revenue, once again significantly above peers' average.
Consolidated net profit was up sharply on first-quarter 2014, at $406 million.
CMA CGM said it continued to roll out its balanced financial strategy over the first quarter, aimed at strengthening its financial flexibility while pursuing controlled expansion to deliver further growth. Adjusted net debt fell by 10.3 percent, chiefly due to the favorable impact of the $/€ exchange rate and to the increase in the Group's cash available. Consolidated adjusted net debt now represents less than half consolidated adjusted equity.
This balanced financial strategy was recently recognized by Moody's, which raised the group's credit rating to B1 with a stable outlook.
On March 31, 2015, CMA CGM took delivery of CMA CGM Kerguelen, its first 17,722 TEU vessel designed to be used on Asia-
Europe lines
. Another five similar-sized vessels will also be delivered this year, along with six vessels with a capacity of 9,400 TEU and three vessels with a capacity of 2,100 TEU.
The CMA CGM fleet will be further strengthened in 2016/2017 following confirmation of its acquisition of three 20,600-TEU vessels to be delivered in 2017.
Spot freight rates for Asia-Europe lines have been rather volatile since the Chinese New Year; volumes remain sluggish however, CMA CGM said. Lines to and from the U.S. continue to perform well. In view of the diverse nature of its lines and customer portfolio, the impact of these factors on CMA CGM in the immediate term should be limited, the group believes.
The group obtained the 30-year concession for the container terminal in Kingston (Jamaica).
The group's logistics subsidiary CMA CGM LOG continued its expansion. On April 30, the subsidiary announced that it had acquired India logistics company LCL Logistix. Additionally, CMA CGM LOG signed an agreement on May 11under which it will manage a logistics platform in Cuba.