Ingram Christens New Towboat Steve Alley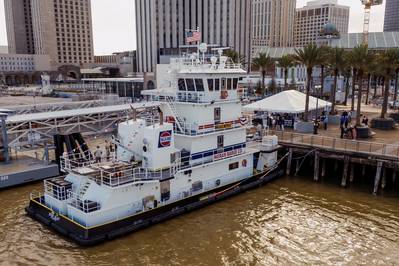 Ingram Marine Group this week held a christening ceremony in New Orleans for Steve Alley, the fifth new towboat in the series of 10 ordered by the Nashville-based operator.
The four-decked, welded-steel, USCG Subchapter M-compliant towboat was designed by Ingram Marine Group, Louisiana shipbuilder Main Iron Works, and naval architect Ashraf Degedy, PE.
The 78-foot-long, 32-foot-wide newbuild is outfitted with twin Caterpillar Marine tier 3 diesel engines and Reintjes gearboxes, John Deere generators, and 76-inch Michigan special propellers. The live aboard vessel features a 34-foot eye level and have capacities of 18,000 gallons of fuel and 8,000 gallons of potable water.
The new towboat is named after Ingram's former vice president of external sales, dry cargo, who retired at the end of 2021 after more than 37 years with the company.
"Steve Alley is the living embodiment of The Ingram Way," said Orrin Ingram, chairman of Ingram Marine Group and CEO of Ingram Industries. "In addition to his many business accomplishments, I will personally remember him as hardworking and committed sales professional who always filled a room with his outgoing personality. He built a legendary reputation in the industry and developed enduring partnerships with many of our valued customers. We wish him nothing but the best in his retirement."
"It's hard to put into words what Steve has meant to Ingram over the years," said John Roberts, president and CEO of Ingram Marine Group. "He leaves a lasting legacy, highlighted by his warmth, professionalism and mentorship of our current and future leaders. He absolutely deserves this recognition, and I'm honored to celebrate him at this christening."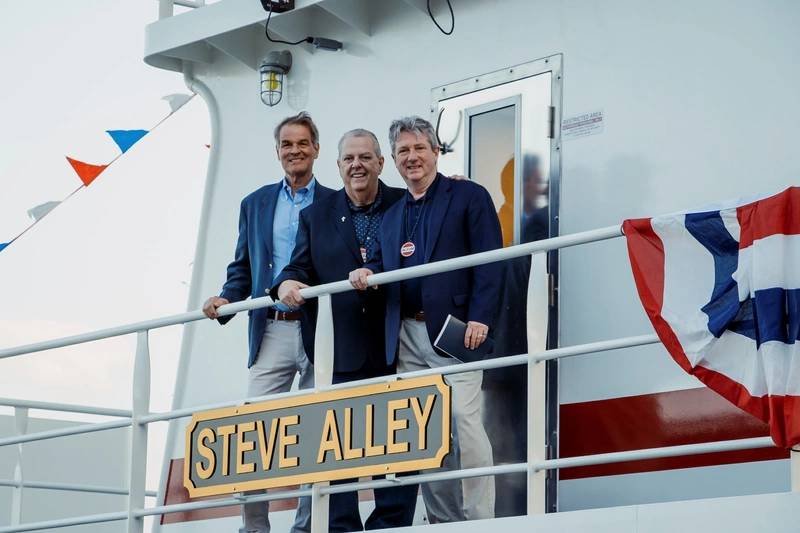 Left to right: Orrin Ingram, chairman of Ingram Marine Group and CEO of Ingram Industries; Steve Alley, former vice president of external sales, dry cargo; and John Roberts, president and CEO of Ingram Marine Group. (Photo: Ingram Marine Group)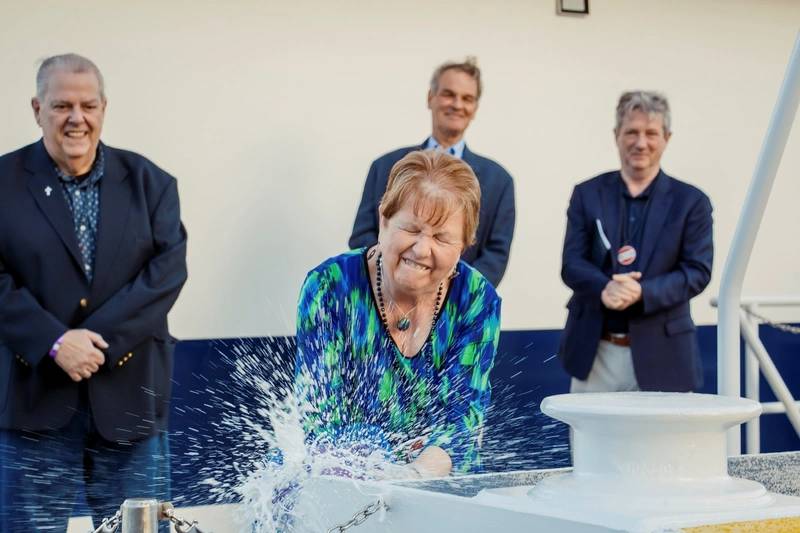 Steve Alley's wife Michelle breaking the champagne with Steve Alley, Orrin Ingram and John Roberts in the background. (Photo: Ingram Marine Group)