Interlake Charters Barge for Great Lakes Service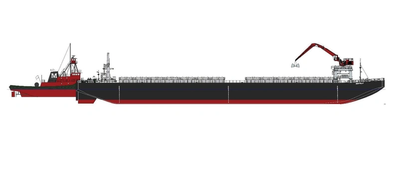 Ohio-based shipping firm the Interlake Steamship Company announced it will time charter a 418-foot, 14,400-short-ton capacity dry cargo barge from the U.S. East Coast to operate on the Great Lakes starting this spring.
The single-hold covered hopper barge Montville, owned and operated by Connecticut-based towing services provider Moran Towing Corp, will be under charter through 2019 with options to extend.
The time charter deal marks a first for Great Lakes carrier Interlake, whose owned fleet includes nine self-unloading vessels ranging in carrying capacity from 24,000 to 68,000 gross tons. The company currently owns and operates one barge as part of articulated tug-barge (ATB) Dorothy Ann/Pathfinder, but it has never chartered one like the Montville previously, according to Interlake president, Mark W. Barker.
Barker said Montville will be used to carry a wider variety of cargoes for Interlake's "doing business as" entity Interlake Logistics Solutions as the company eyes growing demand outside its typical cargo segments.
"We created [Interlake Logistics Solutions] to put a focus on what we hope to be an expanding part of our business," Barker said. "We are a marine transportation company that has traditionally moved the raw materials that are free flowing bulk products for the steel, power generation and aggregate industries. This new asset still has that capability but can also move more challenging non-free flowing bulk products, finished, semi-finished and high value products."
Barker added, "We are starting to see bottleneck with other modes of transportation and believe that we can offer an alternative to truck and rail while being cost effective and with a lower environmental and social impact."
Interlake will look to use Montville for carrying cargoes such as bulk products, steel and specialty project cargoes such as wind turbines, generators, heavy equipment and other large structural components, said the company's vice president of marketing and marine traffic, Brendan O'Connor.
"While barge service is available in the region, we believe the Montville is a unique asset," O'Connor said. "Its sheer size and versatility sets it apart. The Montville will be largest U.S.-flagged barge of its kind on the Great Lakes. With its large, open cargo hold – that is completely covered – it will be able to carry high cubic cargoes as well as heavy cargoes protected from the environment."
Montville was built in 2006 at Bollinger's Amelia, La. shipyard. It is currently paired to is currently paired with the 4,300 HP twin screw tug Alice Moran.
Interlake said Montville will be equipped with a rail-mounted gantry that will support a large material handler capable of digging or lifting cargo out of the cargo hold and onto shore.
"The expectation is that we will install the gantry and material handler sometime in September," Barker said. "We are still in talks with several yards to determine the best location to have the work completed."