ISATPHONE PRO iFLYtm Turnkey Package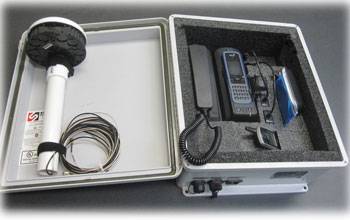 The iFly Industrial Package from Delta Wave was designed for quick and easy deployment. It is a turnkey package which incorporates Beam's IsatPhone Pro Dock, and external antenna which also incorporates GPS. All is contained in a watertight NEMA enclosure with handle for ease of transport and quick installation in indoor or outdoor environments. The unit also works with Inmarsat's 505 emergency alert service, providing location data.

A 30-ft coax cable set is Included, which should satisfy most installation requirements. All connections pre-wired to TNC and SMA bulkhead connectors on the outside of the case for GPS location acquisition and access to Inmarsat's GPRS Network. The kit also includes a corded and cordless handset system that connects to the bulkheaded RJ11 port on the outside of the box. Compatible with PBX or Key Systems. A cordless handset system is also included to offer increased versatility. The unit also supports a Bluetooth headset.

The bulkheaded USB data port offers e-mail and internet connectivity at speeds of up to 4.8kbps .Can be used in conjunction with enhanced e-mail packages such as Amos Connect or Skyfile, with up to 90% data compression. Additionally, we include a USB extender. This lets you locate the device up to 150 ft. from your computer via low loss Cat-5/5e/6 cable. Contact information may be synchronized with Microsoft Outlook.