Keel Laid for Foss Tier IV Tugboat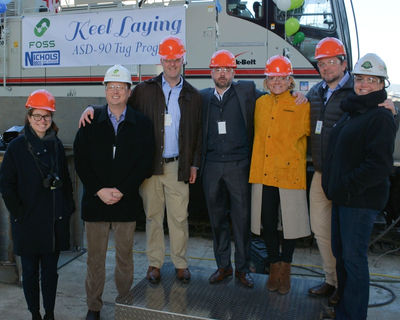 Foss Maritime announced the keel laying of the first of its new class of ASD 90 tugboat, to be built at Nichols Brothers Boat Builders in Freeland, Washington.
Nicole Engle, one of the principals of Foss' parent company, Saltchuk, made the first ceremonial weld of her initials into the keel, assisted by journeyman welder Justina Mackie.
Speaking after the ceremony, John Parrott, President and CEO of Foss Maritime, said "The new tugs are designed to upgrade our fleet and improve the company's ability to provide timely harbor and port services to a variety of customers. By offering lower maintenance down time, greater operating efficiencies and lower emissions, these new tugs help expand our nearshore and offshore capabilities."
Foss has an order for four of the new class of ASD 90 tugs, with an option for an additional six.
Designed by Jensen Maritime Consultants of Seattle, and based on Jensen's Valor tugboat design, the vessels will meet Tier IV standards, using high-efficiency catalytic after-treatment technology to reduce emissions.
The Z-Drive Tractor tugs will be built to U.S. Coast Guard Subchapter "M" regulatory standards, with ABS loadline certification, and UWILD notation. The vessels will be equipped with two MTU series 4000 main engines, Rolls-Royce US255 azimuth thrusters and Markey winches. The vessels will also include condition-based monitoring for the Z-drives and main engines.
The 100 x 40 foot tugs are multi-functional to include ship assist and escort capabilities as well as towing. Additionally, Jensen designed the tugs with some of the most advanced safety features in the industry, including a single 900 GPM fire pumps and monitors, which will be powered from an on-board generator.
Foss plans to operate the tugs on the U.S. West Coast, performing ship-handling duties within ports and harbors. Delivery of the first four vessels will begin in winter 2020.