Largest Ship to Dock in Colombo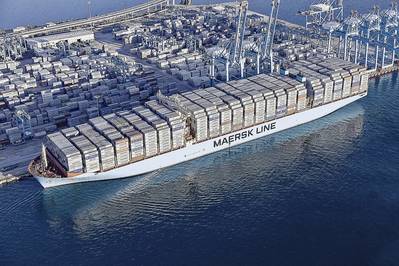 M. V. Mogens Maersk, one of the world's largest ships will arrived in Colombo yesterday. To mark the occasion, an on-boarding ceremony is being organized at the CICT Terminal at the Colombo port. Senior officials from the Maersk Group and regional office Maersk line in Sri Lanka along with Sri Lankan port officials and the top importers and exporters will grace the occasion.

This state –of-the- art triple-E liner is calling on Colombo for the first time and it's last port of call is Rotterdam. M. V. Mogens Maersk is part of the AE2 service, under the global 2M alliance between Maersk Line and MSC connecting Asia and Europe.

AE2 service will call Colombo Eastbound and carry imports from Europe into Colombo as well as load exports from Colombo to China and Korea. It will offer faster and reliable connectivity from North Europe, Russia and Scandinavia into Sri Lanka.

Commenting on this historic occasion, Mr Julian Michael Bevis, Senior Director, Group Relations, South Asia, AP Moller Maersk said, "M.V. Mogens Maersk will offer a faster and a more efficient access to global markets. Our aim is to align our strategy to the market conditions and needs of our customers. We are fully committed to the growth of the Sri Lankan economy and this new service will further help improve trade efficiencies."

At present, Maersk Line in Sri Lanka has 10 weekly services, which includes vessel sharing agreements, connecting Colombo with global ports with competitive transit times and high schedule reliability. The company has a very strong understanding of the local market and leverages on differentiators such as: Weekly calls on all major ports, local expertise with a modern fleet of vessels, easy availability of equipment of its dry and reefer containers, specialized equipment for Garments on Hanger / Tea fit
containers, triangulation, direct container drop off at terminals and 24/7 quote generation.

Mr. Franck Dedenis, Managing Director, Maersk Line (India, Sri Lanka and Bangladesh) said, "Our decision to call on Colombo with the M.V. Mogens Maersk reiterates our commitment in bringing tremendous value to our customers. It will bring in scale and operational efficiencies. We are here for the long haul and want to grow profitably with the market. These calls will result in faster transit times for our Maersk Line customers in these areas, thus reaching out to a global market place in a cost-effective manner."

With expansions at the Colombo port, it is now capable of handling Triple- E ships. Maersk Line intends to use Colombo as a transshipment hub on this service for cargo destined and from South India and East India as well as Bangladesh.