Eastern Launches Second MPSV for Hornbeck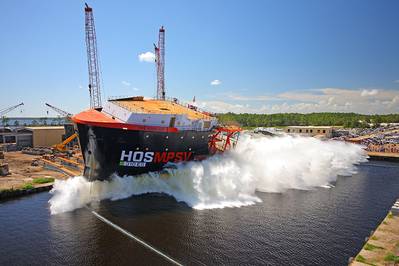 Eastern Shipbuilding Group, Inc. has launched the second of two 302'x76'x26' multipurpose service vessels in the HOSMPSV 310ES series for Hornbeck Offshore Services, LLC., the shipbuilder announced.
The new vessel, HOS Woodland (Hull 242), was launched at Eastern's Allanton facility on Friday, June 19 at an event with hundreds of Eastern employees and guests in attendance. HOS Woodland is the second ship to be christened on Eastern's newly constructed 425' rocker beam system installed on the northeast corner of Allanton's 760' launch basin.
The first HOSMPSV, HOS Warland (Hull 241), was launched in March of this year.
Attending from Hornbeck Offshore Services was Randy Tredinich, vice president of operations of the HOS MPSV and specialty fleet. Tredinich spoke about this being the 12th vessel launched, the eight HOSMAX PSV accomplishments, all delivered on-time, or early and on-budget, the quality and craftsmanship of Eastern's workmanship, the long term partnership and future of the two companies.
As a comparative, Tredinich discussed Hornbeck's past European Shipbuilding benchmark standard for "best in class" for the construction of high quality ships. "I now have no doubt that the new standard of best in class has been reset by Eastern Shipbuilding and the workers of Eastern. This is something you should be recognized for and certainly something to be very proud of."
Once again he praised the quality of workmanship, Eastern's accomplishment, the ongoing vessel deliveries and the operational performance of the eight HOSMAX 300/310 class platform supply vessels (PSV) delivered. The two remaining HOSMAX 310s are being converted at Eastern's outfitting facility to the HOSMAX 310EQH configuration, with enhanced capabilities to support the oil field specialty market, including helicopter landing decks and the flexibility to quickly add berthing for 50 to 130 persons in five different habitability configurations.
Also attending the launch ceremony was Bill Krewsky, director of engineering and project management; manager of projects, Jim O'Kane; project manager, Jim Clendenon; MPSV operations manager, Nolty Alario; MPSV port engineer Trent Skladany and other management personnel of the Hornbeck team, who witnessed the 12th Hornbeck vessel launched within 28 months at Eastern's Allanton facility.
The prospective vessel master, Captain John Holesha, a U.S. Navy veteran, holds an Unlimited Master License and is a 14-year employee of Hornbeck Offshore. Captain John and his wife Jennifer of were the Hornbeck honorees who christened the vessel. Father Roy Marien of Saint John's
Catholic Church
of Panama City, Fla., performed the blessing of the vessel.
Prior to the launch, Eastern's president Brian D'Isernia said a few words about the vessel's size, the onboard 250MT subsea construction crane, the twin remote operated vehicle (ROV) capabilities and thru-hull moon pool features. He thanked all his employees for their ongoing commitment to delivering high quality vessels, on-time and on-budget, the continued growth of Eastern Shipbuilding, and its long-term relationship with Hornbeck Offshore, the offshore marine industry and that there will be more vessels in the future.
The two MPSVs will be U.S.-flagged, Jones-Act-qualified, with 9,000kW of installed AC diesel electric power, twin azimuthing Z-drives, DPS-2 MPSVs and designated HOSMPSV 310ES by Hornbeck Offshore. Each vessel is ABS-classed hull and machinery, oceans service and reviewed for the United States Coast Guard under the Alternate Compliance Program (ACP 2-95), SOLAS/IMO, ABS +A1, +AMS, with the following Class Notations, +ACCU, +DPS-2, UWILD, FFV-1, +Circle E, Offshore Support Vessel (HNLS, HDC, HLC), GP, RRDA, HELIDK, ENVIRO, CRC, SPS (special purpose ship).
These high-tech MPSVs feature four Cat 3516C 16-cylinder turbo-charged EPA Tier 3/IMO II diesel generator engines that are rated 2,250 kW at 1,800 rpm. Main propulsion power will be provided by two GE Energy furnished Hyundai 2,500 kW 690VAC motors driving two Schottel SRP 2020 FP Z-Drives with nozzles rated at 2,500 kW at 1,025 rpm each for a total of 6,704 HP. Schottel also will provide three STT 3 fixed pitch variable speed tunnel thrusters, two forward and one stern thruster, each rated at 880 kW, with direct coupled Hyundai 690VAC electric motors. A third bow thruster will be a swing down electric azimuthing variable speed thruster model TCNS 73CP rated at 880kW provided by Rolls Royce.
GE Energy Power Conversions provides the complete integrated diesel electric package, including the propulsion and thruster drives, four 2,250 kW generators, motors,
control systems
, Duplex Series C DP system, switchboards, motor control centers, automation and navigation/communication electronics. The vessels are designed with one Caterpillar C9 238KW at 1,800 rpm emergency generator provided by Louisiana Cat.
Each vessel will have accommodations with 73 berths, galley and mess areas, a three-berth sick bay, a cinema/conference room with seating for 18 and a fully outfitted gym. The ROV control room, client operations center and a second conference room with seating for 12 is located on the 01 deck. The bridge will have a full complement of the latest electronics, communication and DPS-2 redundant operation stations. Each vessel shall be equipped with an octagonal shaped 21-meter diameter aluminum helideck manufactured by Helidex. The helideck is sized for a Sikorsky S-92 helicopter with a helicopter reception with seating for 18 persons.
For heavy offshore subsea construction work, a 250MT active heave compensated knuckle boom offshore crane with 3,700 meters of main wire shall be installed, Model HMC 4240 LKO 350-40, manufactured by MacGregor of Norway AS. A second electro-hydraulic deck crane manufactured by North Pacific Crane Company Model 327 has a capable of lifting a minimum of 1,500 lbs. at 27 ft. radius and shall be used to handle gangways and vessel stores.
Each vessel is designed with a 15' x 18' moon pool and hydro acoustic hull penetrations. The vessel's electrical system is arranged to power twin ROV/LARS systems. The vessels are fitted with an anti-heeling system and stability tanks to counteract the heeling moments associated with heavy crane lifts over the sides of the vessel.
Each 302'x76'x26' HOSMPSV 310ES vessel is engineered by VARD Marine of Vancouver, Canada and features the following capacities:
Deadweight Tonnage: 5,567 LT
Total Fuel Capacity: 521,800 USG
Day-tank Fuel Capacity: 27,183 USG
Drill Water Capacity: 618,655 USG
Potable Water Capacity: 25,233 USG
Liquid Mud Capacity: 20,190 bbls. (9) Tanks
Methanol Capacity: 1,707 bbls. (2) Tanks
Clear Deck Area: 10,338 sqft. (Approx.)
VARD Marine and
Eastern Shipbuilding Group provided
the SV310ES design for these vessels based on the Eastern Shipbuilding Tiger Shark Class series. Currently 20 offshore supply vessels (OSV) in this series have been delivered to Eastern's clients and have already proven themselves in worldwide operations.