Newest U.S. Navy Logistics Ship Launched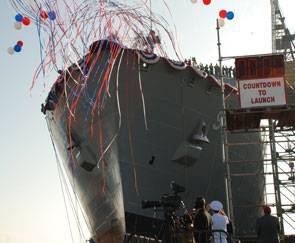 USNS Matthew Perry, which will be the newest ship in the U.S. Navy's Lewis and Clark-class of dry cargo/ammunition ships, was christened and launched Aug.16, during a late afternoon ceremony at the General Dynamics NASSCO shipyard in San Diego. The ship, designated T-AKE 9, is expected to be delivered to the Navy's Military Sealift Command in early 2010 following a series of tests and sea trials.

The 689-ft ship slid into the water for the first time as Hester G. Evans - a great, great, great granddaughter of the ship's namesake and the ship's sponsor - broke the traditional bottle of champagne against the ship's bow, christening it USNS Matthew Perry.

The ship honors Navy Commodore Matthew C. Perry (1794 - 1858), whose distinguished naval career spanned 50 years. In 1853, Perry led a squadron of ships to Japan, where he successfully negotiated a landmark trade treaty with the Japanese. Perry also served during the War of 1812, the Mexican-American War, and sailed off the coast of Africa to suppress the slave trade.

"I am confident this fine vessel will well represent the spirit, tenacity and fortitude of her namesake," said Vice Adm. Richard W. Hunt, commander, U.S. 3rd Fleet, as he addressed the nearly 2,000 people present at the event, including distinguished guests from the U.S. military, maritime industry, and state and local government.

"USNS Matthew Perry and her sister ships represent the lifeline of our Navy, and are absolutely a vital underpinning of our maritime strategy," said Hunt. "These ships' ability to carry a wide range of critical supplies and equipment, and to operate independently at sea for extended periods of time, translates into a higher state of readiness for our combatant ships."

Perry is the ninth ship in the Navy's T-AKE class. These ships are owned and operated by MSC and deliver ammunition, provisions, spare parts, potable water and petroleum products to U.S. Navy and other navy ships at sea, allowing them to stay underway and combat ready for extended periods of time. The ships are crewed by 124 civil service mariners working for MSC along with 11 U.S. Navy sailors, who provide supply coordination.

"The ship has a great crew and we are all ready to get onboard, get settled and get going with the work we do for MSC," said Capt. William Baldwin, Perry's civil service master. "We're off to a really good start."

Construction began on Perry in October 2008. Once delivered to MSC, Perry is slated to operate out of San Diego. The Navy plans to build 14 dry cargo/ammunition ships, all of which will be owned and operated by MSC.

MSC operates approximately 110 noncombatant, civilian-crewed ships that replenish U.S. Navy ships, conduct specialized missions, strategically preposition combat cargo at sea around the world and move military cargo and supplies used by deployed U.S. forces and coalition partners.