Marine Managing Director Awarded an MBE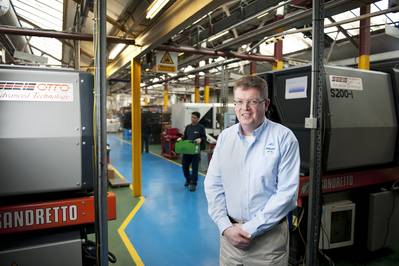 Patrick is currently involved in a number of business activities, which include the role of Managing Director for Munster Simms Engineering as well as working on behalf of Invest NI, and a number of privately owned manufacturing companies as an Independent Business Advisor.

As a co-owner of Whale (Munster Simms Engineering Ltd) Patrick's innovative vision has resulted in increasing turnover by 48% between 2009 and 2011 as well as increased workforce by over 50% since 2008. Hurst's drive for innovation has inspired his design team and today 70% of products that are new or significantly re-engineered in the last 3 years.

Faith in Patrick's leadership was confirmed by the company being listed in the Sunday Times Best company to work for survey for the last 3 years running. Whale was particularly commended for looking after the wellbeing of its staff, an overall ranking of 8th reflects the faith in Patrick Hurst, Managing Director and the employees trust in the "sound capabilities" of the leadership.
In response to the news, Patrick Hurst, stated that: - "It is very humbling to receive such a tremendous honor, and it is made all the more special given that it is the Queen's Jubilee year. I have been so lucky to have worked with many great people in Northern Ireland and to have such a supportive workforce. It is a real privilege to have been recognized for contributing to the business community.'
Whale Chairman, Mike Mills, OBE added that: -"Everyone in the company is delighted to see Patrick's huge dedication to Whale, and to our people, recognized with this honor. He is a consummate leader and this award is also, we are sure, a tribute to all that Patrick does outside the company, to try to improve economic conditions for our whole community."