Port Manatee Sets Course for Growth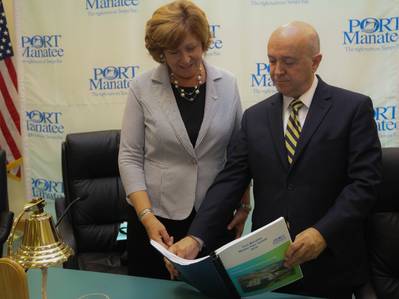 A new study report projects cargo volume through Port Manatee will more than double over the next 10 years. The 2016 Port Manatee Master Plan Update, accepted June 16 by the Manatee County Port Authority, provides a strategic vision and framework for continued diverse growth of the port of Southwest Florida for the coming decade and beyond.
"We are encouraged by the positive opportunities presented in the master plan update," said Betsy Benac, chairwoman of the Manatee County Port Authority. "Just as the plan was developed with extensive input from a wide range of community interests and stakeholders, we look forward to working synergistically with all parties in advancing initiatives to responsibly grow port operations, generating additional well-paying jobs and reaping further economic benefits for our region."
The report recommends a five-year, $126 million capital improvement and maintenance plan, supported by numerous state and federal funding sources.
Detailing multiple growth scenarios, the report projects cargo tonnage moving through Port Manatee to increase at an average pace of 8.3 percent per year for a total gain of 120 percent over the course of the coming 10 years.
Containerized cargo imports – up 40 percent year-over-year for the fiscal year ended March 31 – are anticipated to continue dynamic growth, with a further boost if the port attracts additional container carrier service.
Port Manatee is seen maintaining its critical role as a hub for supplying Southwest Florida with gasoline, while larger volumes of construction materials are expected to be shipped into the port to meet demands of regional growth, with population of the port's 20-county hinterland, which attracts more than 60 million annual visitors, seen reaching 10 million residents in 10 years. In addition, the report cites potential for exports to a post-embargo Cuba, as well as imports of vehicles.
The plan update was developed over the past 11 months by an independent team of consultants led by AECOM Technical Services Inc., in accordance with state mandates for all Florida seaports.

Located "Where Tampa Bay Meets the Gulf of Mexico," Port Manatee is the closest U.S. deepwater seaport to the expanding Panama Canal, with 10 40-foot-draft berths serving container, bulk, breakbulk, heavylift, project and general cargo customers. The port generates more than $2.3 billion in annual economic impact for the local community, while supporting more than 24,000 jobs, without levying ad-valorem taxes.