U.S. Navy Orders Material for JHSV 4 & 5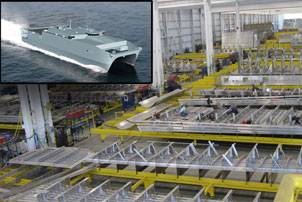 The U.S. Navy has exercised contract options funding Austal's acquisition of long lead-time equipment associated with the construction of two additional 338 ft Joint High Speed Vessels (JHSV). As the prime contractor, Austal currently has contracts to build the first three JHSVs as part of a 10-vessel program valued at up to $1.6b. The most recent award funds the acquisition of long lead time material for JHSV 4 and 5.

Austal was awarded the initial contract to design and build the first 338 ft JHSV in November 2008, with contracts for an additional two vessels awarded in January this year. Options for the remaining seven vessels are expected to be awarded between FY10 and FY13.

Similar to the Austal-built WestPac Express operated by the U.S. Marines for the past eight years, the JHSV will be capable of transporting troops and their equipment, supporting humanitarian relief efforts, and reaching speeds in excess of 35 knots fully loaded. The vessels will be a joint-use platform operated by both the United States Army and Navy.

Construction of JHSV 1 Spearhead is currently underway at Austal's U.S. facility in Mobile, Ala., with a keel laying ceremony to be held in coming weeks. JHSV 2 is scheduled to commence construction in September this year, with JHSV 3 to commence in mid-2011.

Long lead-time material for JHSV 4 and 5 will include main propulsion engines, water jets, reduction gears and other major equipment items. General Dynamics Advanced Information Systems is the platform mission systems engineering agent responsible for the design, integration and test of the ship's electronic mission systems, including an open architecture computing infrastructure, internal and external communications, electronic navigation, aviation and armament systems.