MST Building Two Patrol Boats for the UK Navy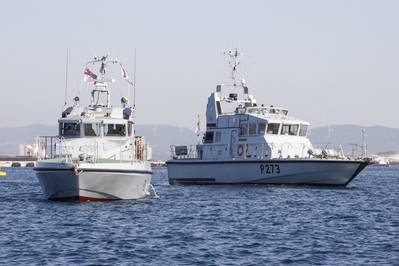 Merseyside, U.K.-based boatbuilder Marine Specialised Technology (MST) has been awarded a £9.9-million ($12.9 million) contract to supply two new boats to replace the U.K. Royal Navy's Gibraltar Squadron fast patrol craft used to patrol HMNB Gibraltar and British Gibraltar territorial waters.
Construction began in July, and the first vessel is due to be delivered in the third quarter of 2021 followed by the second in the first quarter of 2022. MST will provide four years of local in-service support following delivery.
MST said the craft have been jointly developed with BMT Group who will provide support through the design, construction and commissioning of both vessels. The vessels will be the largest and most advanced MST has ever built.
The new craft will provide the Gibraltar Squadron with a larger platform that has improved speed, handling, seakeeping and protection compared to the Archer-class vessels HMS Pursuer and HMS Dasher they will replace. HMS Pursuer and HMS Dasher recently took over from the Scimitar-class HMS Sabre and HMS Scimitar that had been in service in Gibraltar for 17 years.
Other enhancements include an integrated paperless bridge system and a modern communication and surveillance suite. The vessels will each feature triple Marine Jet Power (MJP) 350 X Series waterjets and three Volvo D13-1000 (1,000 hp each) engines. It's estimated the vessels will be capable of speeds up to 40 knots.
U.K. Defense Minister Jeremy Quin said, "These new vessels will enable the Royal Navy to maintain the security of British Gibraltar Territorial Waters and protect British, NATO and Allied ships transiting through the region.
"This contract will also support highly skilled jobs across the UK which clearly demonstrates how national security and regional prosperity go hand in hand."
Mark Milsom, Project Manager for DE&S Boats Team, said, "There has been a British armed forces presence in Gibraltar for more than 100 years and these boats will ensure we maintain an important capability to the Royal Navy and our armed forces, as well as playing a pivotal role in patrolling our coastline, protecting domestic waters and supporting maritime interests.
"These boats will provide the Royal Navy Gibraltar Squadron with a modern, fast and effective capability for fulfilling their important role."
The newbuilds will be the first commissioned Royal Navy craft to be built on the Mersey since 1992 when Cammell Laird launched the Submarine HMS Unicorn and the first Royal Navy surface craft since they launched HMS Campbeltown in 1987.