New Boat Ready to Flex its Mussels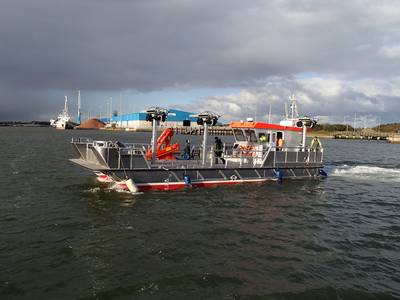 This weekend saw Alnmaritec Ltd hand over the latest of its Wave Worker class of vessels - the 'Eileen Louise' - to one of Scotland's leading live mussel suppliers.

Designed and built in just 9 months at the Alnmaritec facility in Blyth, the boat is expected to provide client Hebridean Mussels Ltd with many years of service.

Cree Mackenzie, owner of Hebridean Mussels commented."We were extremely impressed when we first stepped aboard her for the sea trials, It was clear that the Alnmaritec project team went a great deal longer than the extra mile. We can see the Eileen Louise being suitable for a diverse range of applications, and with Category 3 coding and excellent accommodation facilities, she will also allow us to work with our partners throughout the Outer Hebrides and further afield with longer spells at sea."

Hebridean Mussels was founded in 1992 by Mr Mackenzie's father and he went on to explain the origins of the boat's name, "Eileen Louise is named after my late Mother, Eileen Louise Agate Mackenzie who served in the WRENS during WWII in Oxford and also at Mountbatten's HQ in Ceylon."

The 16.4m boat, which has been customised for mussel harvesting duties off the Scottish West Coast has a large working deck, a hydraulic boom crane and three hydraulic davits with double winches and retracting arms set up to facilitate the latest mussel harvesting techniques.

Other features of the boat include a separate air cooled donkey diesel engine below deck which is used to power the crane and the davits as well as supplying hydraulic power to a range of points on the working deck for grading, de-clumping equipment. In addition she has a removable bow door as well as removable handrails down the side of the working deck to allow easy access during mussel harvesting operations.

Alnmaritec have a long history of providing vessels to the UK's aquaculture market, including the Hebridean Mussels boat 'Mad Betty', a 12m workboat built in 2002. Chris Millman said, "We've been supplying to this sector for a number of years and in fact this is the third boat we've built this year which will be working in a fish farming environment so it's a sector we know well, one that requires tough boats. The Eileen Louise fits that bill, she is a proper workhorse, no frills just good solid engineering." Mr. Mackenzie agreed, commenting "There has been much talk of the decline in British engineering and manufacturing over recent decades but this project has proved that a British yard can deliver quality as good as anywhere in the world, and at good value."