FLIR Teams up with Navico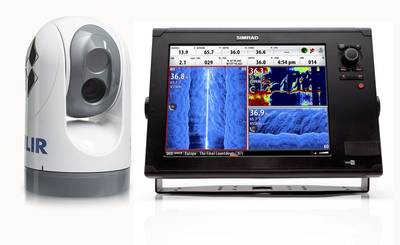 FLIR Systems, Inc. (NASDAQ:FLIR) and Navico announce the integration of FLIR's M-Series Premium Thermal Night Vision Systems with the Simrad NSE Network Navigation and NSS Touchscreen multifunction displays.
Now these Simrad multifunction displays will include seamless integration and control of FLIR's entire M-Series lineup, so boaters will be able to control radar, charting, echosounder, and FLIR Thermal Imaging all on the same multifunction display.

"We are proud to be working with our friends at Navico," stated Lou Rota, FLIR's VP of Maritime Sales. "Our FLIR M-Series Premium Thermal Night Vision Systems provide the perfect complement to these Simrad Multifunction Displays and add a new level of function and stress-free nighttime navigation to a Simrad package."

Powerful, flexible and built to last, the award-winning M-Series is FLIR's premier line of maritime thermal night vision systems. Single-payload (thermal only) and dual-payload (thermal and lowlight or color video) M-Series are housed in a rugged, waterproof gimbal enclosure with 360° pan and 90° tilt fields for horizon-to-horizon visibility.

Simrad NSE and NSS multifunction displays provide the latest technology, advanced ergonomics, sleek aesthetics, and seamless integration of instruments boaters need for safe navigation. The NSE is available in 8- and 12-inch displays; the touchscreen NSS is available in 6.4-, 8-, and 12.1-inch displays.

"We are very happy to integrate FLIR thermal imaging camera control into our industry-leading NS Series multifunction displays," said Leif Ottosson, CEO, Navico. "The situational awareness their thermal night vision technology provides is a perfect complement to our systems, and with the FLIR controls built into our NSS Touch and NSE systems – it is easy for navigators to get a clear picture of their surroundings in any light and weather conditions."