COSCO Orders Navigation Systems for New Box Ships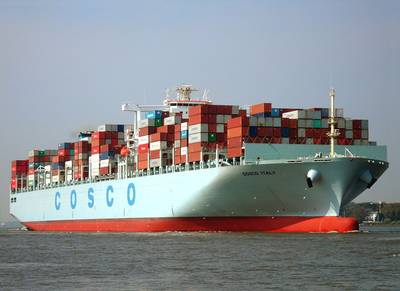 The German navigation system manufacturer Raytheon Anschütz announced new contracts for the delivery of
Synapsis Integrated Navigation Systems
(INS) to five 14,500TEU Container Vessels built at Hudong-Zhonghua Shipbuilding Co.Ltd.
The new vessels will be owned by Shanghai-based COSCO Container Lines Co.Ltd. and are planned to enter operation from September 2016 to December 2017. Raytheon Anschütz has won the contracts through its Shanghai Representative Office.
Each ship set will consist of X- and S-band radars and seven Synapsis NX Multifunctional Workstations in various configurations. The INS also integrates the adaptive autopilot NP 5400, the CAN-Bus based NautoSteer AS manual steering control system, and the gyro compass system type Standard 22. Additional navigational sensors can be easily enabled to the navigational
Ethernet network
through the versatile NautoPlex data converters.
The Synapsis NX architecture features the NautoScan NX network radar transceivers that generate and distribute a real raw video via
Gigabit
LAN to the bridge workstations. All workstations are based on standardized, ultra-compact and powerful Small Marine Computers. By adding software modules for (chart-) radar, ECDIS or conning, the workstations are scaled from a stand-alone workplace for ECDIS or conning up to a fully integrated multifunctional workstation providing access to all nautical tasks.
Peter Zhu, general manager of Raytheon Anschütz's representative office in Shanghai, said, "COSCO will receive a navigation system in full compliance with latest IMO standards, allowing the new vessels to navigate efficiently and safely."
The Raytheon Anschütz Shanghai office will remain engaged and offer local support to shipyard and ship owner, including coordination of delivery and setting in operation of the Integrated Navigation Systems. After delivery, Raytheon Anschütz global network of qualified service partners will ensure maintenance and technical support of the navigation system.
The Synapsis INS will be delivered in accordance with IMO's INS Performance and Test Standards as specified in MSC.252(83) and IEC 61924-2.