NBBB to Build Four Foss Tractor Tugs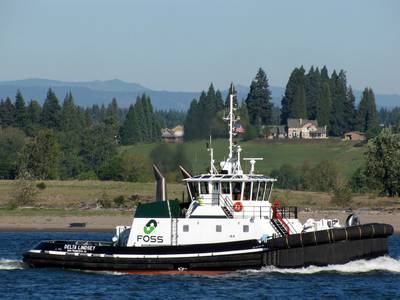 Foss Maritime of Seattle has entered into contract with Nichols Brothers Boat Builders (NBBB) of Freeland, Wash. for the construction of four new 90-ton bollard pull tractor tugs, with an option for six additional tugs to follow.
The contract marks the first between Foss Maritime and Nichols Brothers Boat Builders.
Foss has selected a design by Jensen Maritime Consultants of Seattle. The 100' x 40' Z-Drive tractor tugs will be built to United States Coast Guard Subchapter "M" regulatory standards, with ABS loadline certification, and UWILD notation. The vessels will be equipped with two MTU series 4000 main engines and meeting Tier 4 emission standards, Rolls-Royce US255 azimuth thrusters and Markey winches.
Foss plans for the vessels to operate on the U.S. West Coast, performing ship-handling duties within ports and harbors. The vessels will be equipped with condition-based monitoring for the Z-drives and main engines.
The first four vessels will be delivered beginning winter 2020 through winter 2021. NBBB will implement a new production line to improve efficiencies to meet the accelerated four-boat order.
NBBB is the Pacific Northwest's premiere custom boat builder with over 50 years' experience in vessel construction, repair and conversion.