Svitzer Amstel is Named in the Netherlands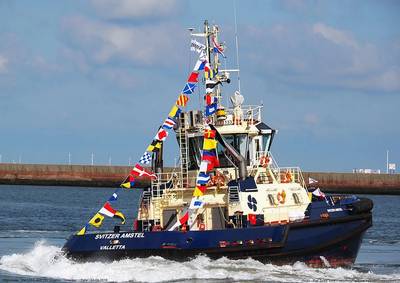 A naming ceremony was held on August 30, 2016 for Svitzer Amstel, a new Sanmar ASD 60-metric-ton bollard pull tug operating in the Port of Amsterdam.
The naming ceremony of Svitzer Amstel built by Sanmar Shipyards, was hosted by Port Towage Amsterdam. On behalf of Sanmar, Projects Director Ali Gürün and Marketing Director Pınar Gürün Korkmaz have attended the event. In witness of the invited guests and with the Svitzer Amstel alongside on the quay, Dertje Meijer, former CEO of the Port of Amsterdam, named the tug.
Sanmar's Projects Dirtector Ali Gürün said, "This is one of the three tugboats that we have delivered in 2015 to Svitzer America, Svitzer Europe and Svitzer U.K. Further 10 more tugboats are under construction to be delivered to Svitzer in 2016 and 2017. Sanmar is proud to be one of the main suppliers of Svitzer."
Designed by Canadian naval architects,
Robert Allan Ltd,
the relatively new exclusive Bogacay model is based on Ramparts 2400SX series exclusively developed for Sanmar Shipyards. The vessel measures 24.4m x 11.25m with a 60-metric-ton bollard pull derived from a pair of 3512 C Caterpillar engines, each developing 1,765kW at 1,800 rev/min., connected to Rolls Royce azimuth thrusters of US 205 FP type.
Svitzer Amstel operates in Amsterdam port where a versatile compact tug is needed to cater for varying water depths and different areas of the port inside and outside the locks. With 60 tons bollard pull, Svitzer Amstel can meet port requirements and assist a diverse range of vessels to meet customers' and pilots' needs. She is the product of a very close collaboration by Svitzer and Sanmar to get a product which would be fit for purpose in Amsterdam. A modern and functional accommodation and living areas was incorporated.