New Kotug Smit Tug Named Buffalo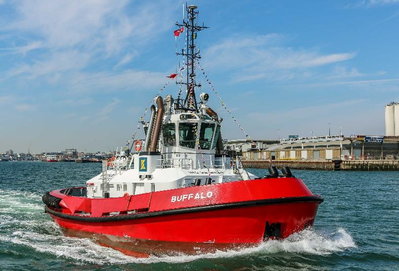 On May 15, 2019, the naming ceremony of the new Damen-built tug 'Buffalo' took place in the Port of Southampton, UK.

Kotug Smit Towage has taken four newly-built Damen tugs into service for its European harbor towage activities, in 2017 and 2018. The latest of this quartet, the 'Buffalo' is currently operating in the Port of Southampton.
The 'Buffalo' is an ATD Tug 2412 Twin Fin. With her 72-tonne bollard pull, the tug combines compactness with maneuverability. The naming ceremony of the tug 'Buffalo' was performed by Lady Sponsor Mrs. Petra Hille Ris Lambers, the spouse of Mr. Aart Hille Ris Lambers, UK Commercial Director of DP World Southampton.