New VEM Technology Leads for Royston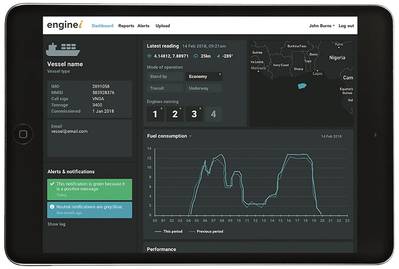 Diesel power specialist Royston said it will showcase new developments for 2018, including Vessel Energy Monitoring (VEM), at the International Workboat Show.
VEM technology, which provides information about a vessel's architecture and energy levels, as well as efficiency improvement recommendations, is part of Royston's enginei product, which delivers cost savings and operational efficiencies for offshore vessel and workboat operators.
The system records fuel consumption data from bunkers and individual engines, with data provided onboard and onshore. The system transfers data from ship-to-shore, where its accessible via a web dashboard and GPS mapping to show a vessel's full operational profile and to enable maximum operating efficiencies to be maintained.
The system can incorporate an unlimited number of sensor inputs and interpret the information into data, which the operator can use to improve performance optimization. This includes weather and engine parameters such as lube oil temperature/pressure, cylinder temperature, coolant temperature and boost pressure, as well as parish tax geo-fencing for the brown water market, emissions monitoring and tank gauging.
Electronic engine CAN bus fuel data can also be utilized as an option for operators requiring a cost-effective alternative to installing flow meter sensors.