NEXT GEN 2019: Burning Issues and Cutting Edge Marine Safety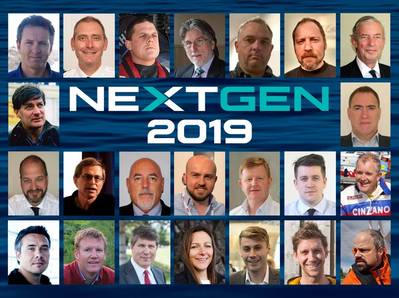 3 One Day Workshops - Southampton UK April 2-4, 2019
As the digital age rapidly arrives all around us, it (or IT) may have overlooked that safety at sea is still all about people. To meet the changing requirements of modern fleets, smart organizations and specialist equipment manufacturers now need to work together to blend traditional safety methods with innovation.
A unique program of three specialist safety days for the sub IMO / sub 80 feet professional sector is being held back-to-back at the Grand Harbor overlooking the port of Southampton UK this April. The fast moving program brings together an international group of 25 experts armed with the latest knowledge to identify problems that affect the maritime sector worldwide - and highlight potential solutions.
Workshop Lead, John Haynes said, 'Each Workshop focuses on a specific topic, so that busy people can attend for a single day. In recent years the NEXT GEN program has gained a reputation for highlighting burning issues and emerging opportunities. Unique insights gained from dynamic panel sessions are helping designers and the marine industry to make strategic product development decisions. This interaction is leading to improvements for in-service systems and procurement of next generation vessels.'
NEXT GEN Man Overboard Prevention & Recovery on April 2, 2019 is relevant to all people working on or near to water. Experts highlight lessons learned from incidents and give viable methods to reduce loss of life at sea, in harbors, docks and marinas. Sponsors include Ocean Safety, Exposure OLAS. Panel discussions include, When can Electronics or Laser Flares be used versus Pyrotechnics?
NEXT GEN Safety Systems & Equipment on April 3, 2019 delves into future requirements along with the challenge of integrating innovative systems into the maritime workplace to improve safety, communication and situational awareness. Sponsors include Seakeeper, Dyena, David Clark, Sea Robotics. Panel discussions include, Are Digital Navigation Systems Becoming More or Less Complicated?
NEXT GEN Shock Mitigation Solutions on April 4, 2019 focuses on managing the risk of operating planing craft in waves. Extreme applications have driven rapid development and cost effective solutions are now becoming available for lower speed vessels. Sponsors include Skydex Technologies, Shockwave, Scot Seats, Shoxs. Panel discussions include, What quick and simple methods Reduce Risk of Injury on Fast Craft?
NEXT GEN Workshops are relevant to operators of workboats, pilot boats, patrol, search & rescue, survey, wind farm support, superyacht tenders, training and charter vessels. Attendees include Royal Navy, Ministry of Defense, Border Force, HM Coastguard and the RNLI. International attendees include professional and military organisations, boat builders, equipment manufacturers and service providers.
Supporters of the event include British Marine, UK Maritime Pilots, University of Southampton and Southampton Solent University.
NEXT GEN Man Overboard Prevention & Recovery – Presenters:
Capt Andrew Moll – Chief Inspector, Marine Accident Investigation Branch (MAIB)
'Lessons Learned from Recent Man Overboard Incidents'
Karen Bosman – Maritime Operations Specialist, HM Coastguard
'How a Man Overboard Rescue Evolves at the Control Centre'
Miguel Vieira de Castro – President, APIBARRA (Portuguese Pilots Association)
'2018 Portuguese Pilot Fatality – What happened and Lessons Learned'
Alistair Hackett – Managing Director, Ocean Safety
'Developing Integrated and Effective Life Saving Solutions for Real People At Sea'
Lewis Arnold – Operations Manager (Lifeboats), Royal National Lifeboat Institution (RNLI)
'How Do We Keep Our Rescuers Safe At Sea'
Paul Savage OBE – Maritime Medical Solutions Consultant, Saviour Medical
'Breaking the Historical Paradigms of Maritime First Aid Training'
James Fanshawe CBE – Chairman, Maritime Autonomous Systems Regulatory Working Group
'How Autonomous Surface Vessels can Improve Safety for SAR Operations'
Tom Harrop – Marine Brand Manager, Exposure Lights
'High Power Portable LED Work Lights with built in MOB Technology'
Jon Lewis – Maritime Command, UK Border Force
PANEL DISCUSSION: 'Making Man Overboard Exercises More Realistic and Effective'
Bill Swanton – Survival Officer, Institute of Naval Medicine (Royal Navy)
PANEL DISCUSSION: 'Sea Survival Training and Effective Methods of MOB Recovery'
NEXT GEN Safety Systems & Equipment Presenters:
Cdr Adam Northover – Fleet Navigator & Seamanship Officer, MoD Boats Manager - Royal Navy
'Why Fundamental Seamanship and Simple Navigation still matter in the Digital Age'
Capt Don Cockrill MBE – Secretary General, UK Maritime Pilots Association (UKMPA)
'Maritime Situational Awareness - Determination, Perception and Integrity'
James Coker – Account Manager Northern Europe, Seakeeper
'A Stable Vessel is a Safer Vessel'
Sally Dale – Managing Director, Pinpoint Electronics / Distributor for Sea Machines
'How Autonomous Vessels can Improve Safety for Dull Dirty and Dangerous Tasks'
Dr Spike Briggs – Managing Director, Medical Support Offshore
'Integrated Remote Healthcare at Sea in the 21st Century'
John Haynes – Managing Director, Shock Mitigation
'Balancing the Need For Speed with Reliability and Durability – of Boats and People'
Kent Clarke – Military Business Development Manager, David Clark Company
'Effective Communications for Extreme Marine Environments'
Duncan King – Head of Amphibious Trials & Development, Royal Marines
'Challenges of Trialling Boats and Equipment in a Changing World'
Simon Wood Power – Managing Director, Supermarine Powerboats
'The Reality of Familiarity Breeding Contempt on High Speed Craft'
James Glover – Managing Director, DYENA
'Utilizing Vessel Data Monitoring to improve Crew Safety
NEXT GEN Shock Mitigation Solutions – Presenters:
John Haynes – Managing Director, Shock Mitigation
'Global Perspective on Shock Mitigation and the Reality at Sea Level'
Pete Sheppard – Senior Naval Architect, Royal National Lifeboat Institution (RNLI)
'The Challenges of Integrating WBV Mitigation into Existing Fleets'
Andrew Hughes – Business Development Europe, SHOXS
'Cutting edge update on suspension seating innovations and technology'
Phillip Moxley – Senior Engineer, Frazer-Nash Consultancy / BS WBV Panel
'Update on British Standards Whole Body Vibration Panel'
Sean Gerrett – Sales Manager, Shockwave
'Cutting edge update on suspension seating innovations and technology'
James Taylor – President & CEO, SKYDEX Technologies
'Non-Mechanical Shock Mitigation Solutions for Sitting and Standing on Planing Craft'
Jonathan Young – Managing Director, Scot Seats
'Cutting edge update on suspension seating innovations and technology'
Paul Delderfield – Specialist Inspector of Health & Safety (Noise & Vibration), Health & Safety Executive
'HSE Position on Whole Body Vibration in Boats and Current Exemptions'
Gurmail Paddan – Head of Acoustics & Vibration, Institute of Naval Medicine, Ministry of Defence 'Managing Whole Body Vibration in small boats within the Ministry of Defence'
Dr Thomas Coe – Whole Body Vibration Specialist, RNLI
PANEL DISCUSSION: 'How do we evolve knowledge of Vertical Impacts to Lateral & Multi Axis?'
Hans van der Molen – Head of Technical Projects & Innovation, KNRM (NL Lifeboat)
PANEL DISCUSSION: 'Shock Mitigation Begins With The Hull'