Nishishiba, NICO Sign Service Agent Deal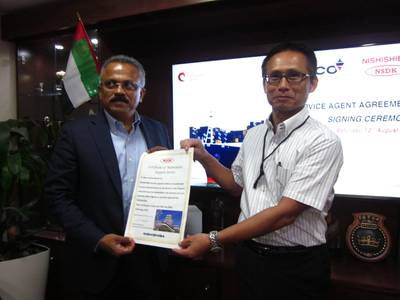 Japanese power generation, industrial and marine electrical systems specialist Nishishiba Electric Co. Ltd., part of the Toshiba Corp., has entered in to a service agent agreement with UAE based marine and industrial engineering company NICO International.
NICO International will be the authorized service representative for all the electrical power generating products manufactured by Nishishiba in the
Middle East region
.
"Considering the market trends and NICO's vision of being the best overall marine and industrial solutions provider, this partnership with Nishishiba Electric Co. Ltd. is a significant step for NICO in becoming an even more attractive market player," said Prakash Kumar – General Manager, NICO International.
Masayoshi Aoki, COO Marine Electrical System of Nishishiba, said, "This new partnership with NICO will further strengthen and broaden the electrical power generating market in the Middle East. Further the skilled manpower from NICO combined with the power generating experience and knowledge base from Nishishiba will be sure to give a strong local base in the Middle Easti – an important supplement to our presence in Japan."