Nor-Shipping 2023 Awards Focus on Wind Developments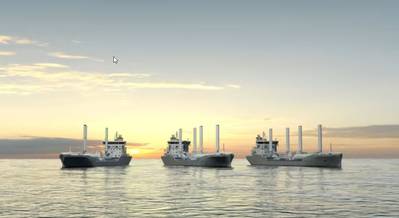 The winners of Nor-Shipping 2023's top awards are Swedish/Danish tanker operator Terntank, wind power pioneer AlfaWall Oceanbird and Bound4Blue Co-founder and COO Cristina Aleixendri Munoz.
Expert judging panels described the competition for the accolades as "fiercer than ever", reflecting on the "dynamic, ambitious and innovative state of an industry in transition."
Terntank secured the coveted Next Generation Ship Award for its Hybrid Tanker 15,000dwt newbuildings, currently under construction at CMHI Jinling Shipyard in Yangzhou, China. These breakthrough vessels are capable of running on e-methanol where available, feature advanced battery systems and will also boast a suction sail system that could reduce emissions by a further 8%. Kongsberg Maritime provided design, engineering and equipment for the vessels.
AlfaWall Oceanbird, a joint venture between Alfa Laval and Wallenius, took the second ever Ocean Solutions Award for the Oceanbird folding wing sail. This wind concept has more in common with airplane wings than traditional sails.
Cristina Aleixendri Munoz of Spain's Bound4Blue was the recipient of the Young Entrepreneur Award, held in partnership with YoungShip International. This prize, given to emerging industry stars under the age of 40, recognized her pivotal role in bringing the firm's automated turnkey wind solution to market.