MSC Refit Team Recognized for Outstanding Performance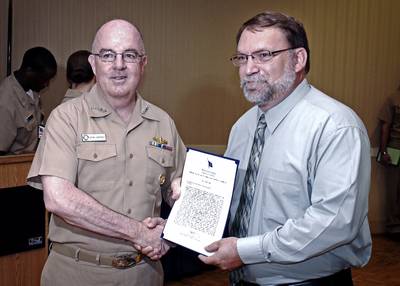 Rear Adm. Mark H. Buzby, commander, Military Sealift Command, recognized 82 MSC military and civilian employees with commendations for their role in refitting USS Ponce (AFSB(I)-15) during a ceremony yesterday on Naval Station Norfolk, Va.
Ponce, formerly an amphibious transport dock ship, was refitted by MSC in approximately five months as an interim Afloat Forward Staging Base and deployed June 1 to U.S. Central Command.
Adm. John C. Harvey, Jr., commander, U.S. Fleet Forces Command, and Rear Adm. David M. Thomas, Jr., commander, Naval Surface Force Atlantic, concurrently presided over the ceremony with Buzby. Of MSC uniformed Navy personnel receiving awards, two were awarded the Navy and Marine Corps Achievement Medal. Eighteen MSC civilian personnel were given letters of commendation, and 62 others were awarded letters of appreciation. Additional Fleet Forces and SURFLANT personnel also received recognition for their achievements.
All personnel honored during the ceremony were presented with plaques incorporating a small piece of wood dunnage planking used aboard Ponce before its refit. They also received mugs emblazoned with Ponce's crest, which were donated by Rear Adm. Brian LaRoche, deputy commander, MSC.
Ponce's quick conversion to an AFSB(I), with major work occurring February 13 to April 15 at MHI shipyard in Norfolk, represents a true success story for MSC and the Navy, Harvey said during his remarks.
"The work done by the individuals recognized today was key to giving Ponce a second life and provided significant savings for taxpayers. We are very proud of what you have accomplished and are here to formally thank you for your contribution to our Navy and to the men and women that deployed on USS Ponce," said Harvey.
Once in theater, Ponce will support mine counter-measure and coastal patrol ships, and aircraft operations. The ship also has the capability to provide flexible support as needed for embarked detachments of personnel when requested by USCENTCOM and U.S. 5th Fleet.
To perform its new role, Ponce's bridge equipment and navigation sensors were replaced with modern automated systems to support reduced crewing by 152 of MSC's civil service mariners, who navigate, operate and maintain the ship. Ponce is also crewed by 55 uniformed Navy personnel; the combined CIVMAR and Navy crew is commanded by a Navy captain. Additional modifications included overhauling Ponce's main propulsion boilers; cleaning the ship's main and auxiliary condensers; overhauling other existing ship's equipment; and refurbishing the galley and berthing spaces.
"Refitting USS Ponce from an LPD to an interim afloat forward staging base in five months required significant dedication from the MSC team members we recognized," Buzby said. "Thanks to the efforts of our people, Ponce got underway on schedule. I couldn't be prouder that once again, MSC delivered."
MSC operates approximately 110 non-combatant, civilian mariner-crewed ships that replenish U.S. Navy ships, conduct specialized missions, strategically preposition combat cargo at sea around the world, and move military cargo and supplies used by deployed U.S. forces and coalition partners.